Marathon Oil (MRO) shares are up by about 40% since the end of 2010 and may still be a good bet for covered-call aficionados. Here's a closer look at the potential trading opportunity being displayed on the daily chart of this energy sector giant (Figure 1).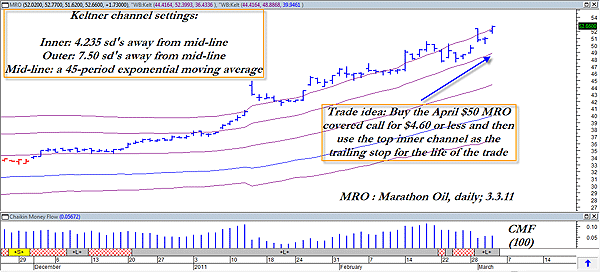 FIGURE 1: MRO, DAILY. A high relative strength stock like this one is a prime candidate for a near-term covered-call setup. Trend strength, momentum, and money flow are all confirming the bull run in shares of MRO.
Graphic provided by: MetaStock.
Graphic provided by: MetaStock 11 CS Scientific expert advisor.
For seasoned trend-followers, this chart should be fairly simple to decipher:

1. Prices are continuing to hug the extreme upper Keltner channel (set at 7.5 standard deviations away from a 45-period exponential moving average [EMA]), making a new set of post-crash highs along the way.

2. Long-term money flow (the 100-period Chaikin money flow [CMF][100]) is remaining strong, well above its zero line.

3. MRO's relative strength ranking within its industry group and also against the Standard & Poor's 500 is very favorable.

4. Last but not least, the CS Scientific Hybrid Trade Screen (a MetaStock 11 Expert Advisor) is also confirming the massive strength of this stock; just look at the gray ribbon at the bottom of the chart to help accurately identify potentially bullish phases in any given stock or commodity.

While the broad market gyrations of the past four to six weeks might make some traders nervous about putting on a long stock position at these lofty valuations in MRO right now, more conservative traders might find that a near-term covered-call trade is much more toward their risk tolerance zone. By buying an April $50 covered call in MRO, you avail yourself of the opportunity to earn an annualized return of approximately 23% in a six-week period. See Figure 2.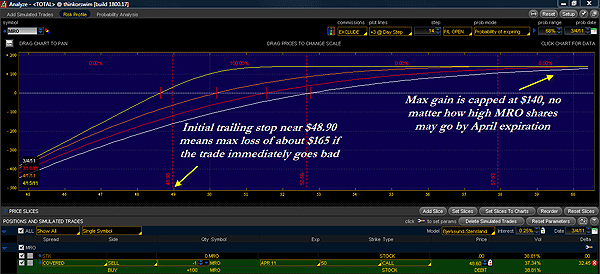 FIGURE 2: COVERED CALL. Holding a covered call to expiration can be about as much fun as waiting for a pot of water to boil, but if the risk/reward profile of the trade is attractive, it might make the process a bit easier to endure.
Graphic provided by: Thinkorswim.
If you can work a bid to pay no more than $48.60 to buy the April $50 covered call, this really does look like an attractive trade setup, one offering the advantage of a powerful uptrend in force and a rate of potential return that makes the modest risk involved worth the effort, even if the trade goes sour.

Here's why. If you use the second (from the top) Keltner channel as your trailing stop, your initial risk on this trade comes in at about $162 (a Fibonacci ratio!) before commissions, barring an unexpected gap down or something unusual occurring, of course. If the stock can manage to stay above $50, however, finally closing in-the-money at April options expiration, you'll stand to make about $140 (again, before commissions). And, really, all you need to do is use that particular Keltner channel to shepherd the trade through to its final outcome, win or lose.

All in all, this looks like a pretty painless way to seek to extract some profits from this red-hot market, and that without a lot of undue risk. If you are firmly convinced that MRO still has some room to run higher, then this may be the trade setup you're looking for. Just be sure to limit your account risk to no more than 1% to 2%, no matter how the trade eventually turns out.