The past six weeks have been very tough for discretionary traders, top pickers, and perma-bear pundits, as the market just seems to refuse to go down for the count. Maybe all of those millions of secondary quantitative easing (QE2) really are doing their job after all, helping to prop up the broad US markets for the time being.

System trading offers a potentially attractive alternative to following newsletters, alerts, and advisory services, but as with all sound trading disciplines, you need to be aware of the various ways that system traders can become disillusioned, confused, and disenchanted while in search of consistent mechanical trading profits. Here's a look at one of the major pitfalls that successful system traders need to avoid.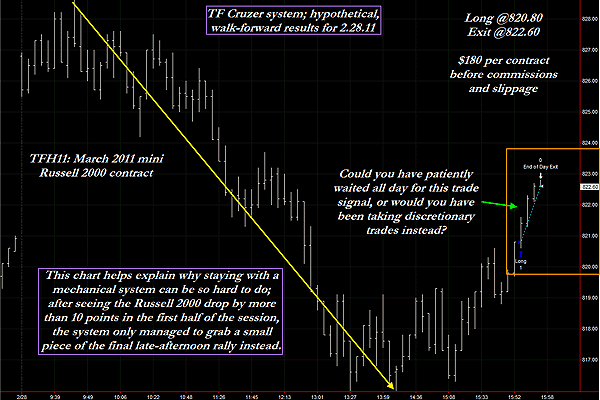 FIGURE 1: TF CRUZER. Be advised that if you plan to be a successful system trader, you need to be prepared to wait for your system to signal an entry, no matter how many other opportunities you feel like you're missing out on. It's harder to do than you might imagine, unless you have the system traded for you by your broker.
Graphic provided by: TradeStation.
Figure 1 is a screen shot of a real-world futures trading system in action (TF Cruzer), one that actually has real people trading it with real dollars. Based on a trend-following method, the system trades the front month emini Russell 2000 futures contract, and it always goes to the safety of cash at the end of each trading session. But look at the chart. If this is a trend-following system, why did TF Cruzer miss out on the nice 10+ point (more than a $1,000 move) down swing in the first half of the session?

Well, for one thing, no system is perfect, and the exact configuration that the system likes to see before initiating a trade just wasn't happening as the selloff began. So it stayed in cash, even as some traders probably made plenty of money shorting the mini Russell between 1000 ET and 1300 ET.

Later, after the market bottomed and rallied again, the system sniffed out an emerging trend and actually did go long, this time netting a whopping 1.80 points ($180 before commissions and slippage). Oh, goody. All of that market action -- powerful swings down and then up, and all the system manages to eke out is a measly 1.80-point gain? Welcome to the world of systems trading. Enjoy your stay, whether it's for five minutes or the next 50 years.


In the past, this same system has actually managed to gain more than $1,000 on various trades, and although they aren't weekly occurrences, the frequency with which the three-, four-, six-, seven-, and even eight-point winners occur does seem to weigh heavily in favor of the underlying potential of the system's design.

It can also have meaningful drawdowns (DD), too -- in fact, it appears to be pulling out of one of its largest drawdowns right now, but we'll only know for sure if the DD is over after the fact. All we can say is that based on past performance, and if the underlying forces driving the intraday trends in the mini Russell 2000 contract don't change too much, there is a reasonably good probability that this system will continue to catch some big winning moves and these moves may help to drive the system's equity curve higher even though the system wins less than 50% of the time. As always, past performance does not mean that any system (including this one) can or will continue to be profitable in the future.


So how about you? How would you be feeling now if you were trading this system with only 1.80 points to show for an entire session, especially if your best trading buddy had managed to make eight or even nine points on the early drop in the same R2K trading session, and that even without the benefit of a system? Would you be coming up with excuses as to why you should search for a perfect system that catches every large trend move, no matter what?

At one point, that would have described my mindset to a T. But I learned the hard way that there are no perfect systems and that sometimes it's best to settle for 80% of a loaf than to try to get it all and end up with nothing but trading system table scraps and leftovers -- and an empty wallet. Learn from my own trading mistakes (all 90,000 of them) and maybe you can save yourself some unnecessary troubles and financial setbacks by finding a good, proven system and learning how to adjust your temperament and expectations so you can trade it for a long, long time.

TF Cruzer may or may not be that system for you, so do a lot of investigation before deciding to lease, purchase, or subscribe to any given trading system. You'll be glad you did so.