Recently, I attempted to call the top of the recent daily trend in ticker TQQQ, the ProShares UltraPro QQQ exchange traded fund (ETF). I came within $0.15 of getting short at the exact top of the multimonth move by simply relying on my charts, indicators, and traders' instinct. I only shorted 15 shares and managed to make $192 in three days. Wonderful! I must have been the world's smartest trader, right?

Ha, ha -- not so fast.

I tried the same tactic again a couple of trading sessions later and gave the entire original profit back, plus an extra six dollars! Maybe my IQ slipped a few notches, or maybe it was just another momentary lapse of reason kind of thing -- who knows?

Not one to let a .500 batting average just sit there, I again shorted 15 shares of TQQQ and made back $50, now having a whopping net profit of $44 to show for all of that effort. What a waste of time, trading capital, and emotional energy. Finally, it dawned on me: why not just develop a purely mechanical system for TQQQ so that I can sidestep some of these typical discretionary trader woes, while hopefully making better profits with less stress and aggravation along the way? See Figure 1.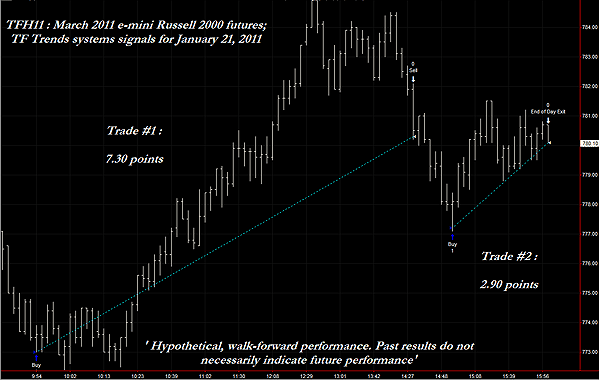 FIGURE 1: EMINI, HOURLY. Not every trading session goes this well, of course, but traders using a highly developed mechanical trading system may experience less stress and uncertainty than their discretionary trading counterparts. Slippage and commissions are not included in these results.
Graphic provided by: TradeStation.
Well, I'm still in process of constructing an intraday swing system for TQQQ, but actually do have several real-world intraday mechanical trading systems for the emini Russell 2000 and full-sized COMEX gold and silver futures contracts, so I thought I'd provide a visual explanation as to why letting a mechanical system do the heavy lifting may also be a better alternative for the majority of traders who've also struggled with playing the stock market version of "king of the hill" on a regular basis, only to have their head handed back to them by a merciless market, one that seems to delight in playing with and then preying upon the powerful emotions of fear and greed that constantly play havoc with a trader's self-discipline.

The broad US markets staged a sharp mini-relief rally during Monday's session, with the March 2011 emini Russell (TFH11) contract jumping by as much as 12.50 points between 1000 ET and 1231 ET. My TF Trends system (hypothetical, walkforward mode) managed to enter the move early on at 773.00 -- a mere seven minutes and 0.60 of a point before ultimately bottoming and starting the run higher. The system uses a variety of statistical measures to determine the most opportune time (based on extensive testing) to enter and then ultimately exit any given trade. In this case, although the system came very close to entering near the ultimate reversal low at the start of the upthrust, it didn't get out near the ultimate high point of the 12.50 swing. It did, however, manage to grab and retain a full 7.30 points of it, for a profit of $730 before commissions.

A little later, TF Trends again homed in on a long trade entry, picking up another 2.90 points before commissions. The trade exited near the end of the normal daily trading session, within 1.40 points of the ultimate high attained during the life of the trade.

So, for the day, in hypothetical walkforward mode, the system made about $1,020 trading a single mini Russell futures contract. And no one had to sweat calling the best time to enter and exit the trades; the system made all of the decisions, relieving its potential traders of the emotional stress that comes with trying to take on these highly leveraged markets without a proven, fully mechanical trading strategy. By the way, the system does not necessarily produce winners like this every day!



As one who has made and lost money using both discretionary and mechanical trading methods, all I can say is that trading with a system is usually the preferred course of action. While there may be a sense of pride for calling a near-exact top or bottom of a market move, in reality, that's what sets you up for ultimate failure, when your random or poorly planned discretionary trades finally crash and burn. Pride goeth before a fall, so be on guard not to let your head get too swelled with self-adulation, should you get lucky and call a major market turn -- because that's when you're the most vulnerable to getting wiped out -- all due to the sin of pride.


Examine the many kinds of trading systems that are available to you, carefully considering both the potential for risk and reward contained within each one. It could be time very well spent, possibly enabling a radical change for the better in the way you interact with the financial markets.