PRINT THIS ARTICLE
ACCELERATION
---
How To Spot Accumulation And Entry Points
01/31/11 09:35:13 AM
---
by Billy Williams
---
Emerging stock leaders are easy to spot if you understand accumulation that will give you the best entry into a new long position, if you know this vital key.
Security:
RKT
Position:
Hold
When stocks are trending and making a series of higher highs and higher lows, it reveals to the skilled technician that an uptrend is in place and helps show which side of the market to take a position in. This ebb and flow in the market's price action reveals a natural rhythm at work, but a key factor can show you who the new emerging stock leaders are and low-risk entry points to catch a runaway move before anyone else.

Volume is to price what rocket fuel is to the space shuttle, in that the amount of volume in a given stock shows the level of interest in that stock. If volume is flat, then no interest is in the stock either on the bearish or bullish side, but when volume is steadily rising, then it shows that investors are becoming more optimistic about its future prospects and, as a result, price and volume begin to move upward almost in sync. When trade volume increases, it is said that the stock is under accumulation.



When this condition occurs, a golden opportunity begins to take place given the context of the market. A stock under accumulation begins to attract the attention of the major buyers in the markets, which are the big institutional traders and mutual funds.

There are two reasons for this beginning with the potential for profit. A stock that is rising in price, provided that it has attractive prospects for the future and/or attractive fundamentals, begins to gather a following of investors who are looking to profit by the potential for gain.

The second reason is that major institutions are often flush with cash and are looking for attractive investments to store their money in. Pension funds and money managers are under enormous pressure to garner attractive rates of return for their investors, so up-and-coming stocks attract the attention of performance-minded fund managers. In addition, given the herd-type mentality of Wall Street, if one institution buys the stock, then it is likely that others will follow. See Figure 1.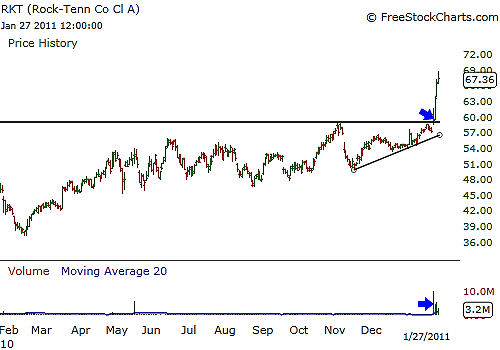 FIGURE 1: RKT. RKT begin to consolidate from mid-July to December, where price then began to tighten up as trading volume slowly increased until finally it exploded upwards on 10 times its normal volume. This signaled a quick entry and RKT shot up over 10 points in just a few days as it was being quickly accumulated by major investors.
Graphic provided by: www.freestockcharts.com.
Add to that, as the stock rises, in the eyes of many mutual funds, it triggers many of their performance standards about only investing in stocks that are worth a certain dollar amount per share.

Given the huge amount of money at the command of these institutional traders, they also have to be extremely careful about how they go about buying shares because they can attract the attention of skilled technicians who can spot accumulation by observing price/volume relationships as well as the traders on the floors of the exchange itself. If they are careless, that results in a higher per share price that they will have to pay so it is in their best interest to break up their buy orders and spread them out as best they can.



This can result in price consolidation patterns in the stock, which are the mother's milk for momentum traders. As shares are being bought up, eventually traders begin to take notice as the stock's price begins to firm up near the upper end of its trading range in the consolidation pattern.

As it does so, at some point, institutions have to complete their position by buying at the higher prices, spiking the price higher on huge volume and exploding the price action upward, setting into motion a new bullish trend in full swing.

The easy entry point is right above the top of the consolidation pattern and confirmed by a huge spike in price action, followed by an accelerated rise in stock value.



---
Billy Williams
Billy Williams has been trading the markets for 27 years, specializing in momentum trading with stocks and options.
Company:
StockOptionSystem.com
E-mail address:
stockoptionsystem.com@gmail.com

Traders' Resource Links

StockOptionSystem.com has not added any product or service information to TRADERS' RESOURCE.
---
Click here for more information about our publications!
Comments
Date:
 02/01/11
Rank:
 5
Comment:
PRINT THIS ARTICLE