PRINT THIS ARTICLE
RSI
---
Keep The Health With Verisante Technology
01/24/11 01:29:20 PM
---
by Koos van der Merwe
---
The Vancouver Stock Exchange is renowned for listing companies of hope. Here's another.
Security:
VRS-V
Position:
Accumulate
You are invited to a party. You sit with a group of friends, and eventually they start talking about the stock market. You remember the basic rule: when the conversation turns to the market first and sex second, then it is time to exit the market. However, whichever comes first, when it does come to talking about the market, one friend always has a hot tip that he heard from a friend who in turn heard it from another friend. What do you do? Do you take the gamble, spend the few dollars and buy 10,000 shares at $0.15 each, or do you enjoy the party and when the share price doubles in two years' time, regret your decision?

Verisante Technology (VRS-V) is one of those companies. The original name of the company was T-Ray Science, because it specialized in a device for the early detection of skin cancer. On January 18, 2011, shareholders approved the name change to Verisante Technology because the company's device is now used for the early detection of lung cancer. The share price immediately jumped from $0.17 to $0.35.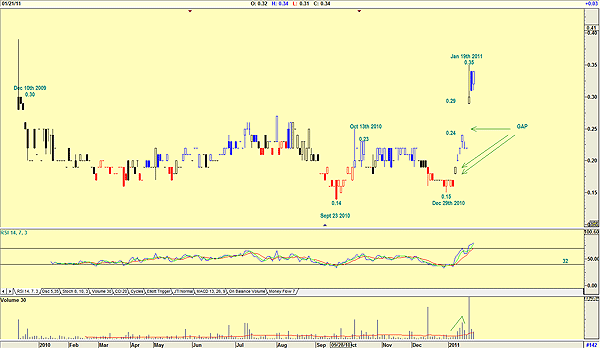 FIGURE 1: VERISANTE, DAILY
Graphic provided by: AdvancedGET.
Figure 1 shows the company listing on the TSX on December 10, 2009, at $0.30 per share. The price then dropped to $0.14 per share by September 23, 2010, destroying any hope that speculators may have had and cleaning out the speculators. The share price then rose to $0.23 per share by October 13 and then fell to $0.15 per share by December 29. From that date it started rising rather dramatically until the announcement on January 18, when it rose to a high of $0.35 on January 19 before consolidating.

Would anyone other than an insider have bought the share on December 29? The answer is yes, anyone who believed in the company's product and monitored it closely. Note how the relative strength (RSI) dropped below the 32 horizontal line, giving a buy signal. Note also the rising volume as the price rose rapidly on gaps, a sign of strength, with falling volume as the price fell after reaching the $0.24 level - a sign of weakness.

With the RSI at overbought levels, but not giving a sell signal (not yet at any rate), what for the future? The rule is that a price always falls to fill the gap, so we could expect the price to fall to somewhere between the $0.24 and $0.29 level sometime in the future. When that occurs, anything can happen because we can only speculate on what else the company has in store. If their product can now detect an early warning of lung cancer as well as melanomas, is it possible that sometime in the future their product may be able to detect early breast cancer? Verisante Technology is a company worth watching.



---
Koos van der Merwe
Has been a technical analyst since 1969, and has worked as a futures and options trader with First Financial Futures in Johannesburg, South Africa.
| | |
| --- | --- |
| Address: | 3256 West 24th Ave |
| | Vancouver, BC |
| Phone # for sales: | 6042634214 |
| E-mail address: | petroosp@gmail.com |
---
Click here for more information about our publications!
PRINT THIS ARTICLE