PRINT THIS ARTICLE
ACCUM./DIST. CHAIKIN
---
Time To Flee Sara Lee?
01/11/11 07:55:17 AM
---
by Donald W. Pendergast, Jr.
---
Sometimes it's the not-so-obvious clues on the price chart that can warn you that the party is just about over. Looks like the hosts are making a mad dash for the punch bowl -- in shares of Sara Lee.
Security:
SLE
Position:
N/A
What's not to like about this recent consolidation breakout in shares of Sara Lee (SLE)? As traders, aren't we taught to go long pattern breakouts in stocks where the dominant trend is up? At first glance, this looks like a very tasty move -- a real piece of cake, if you will -- but if we take a minute and look beyond the first impression, we would soon realize that this is a stock that is far more likely to reverse lower than it is to continue to make new highs. Figure 1 is a closer look.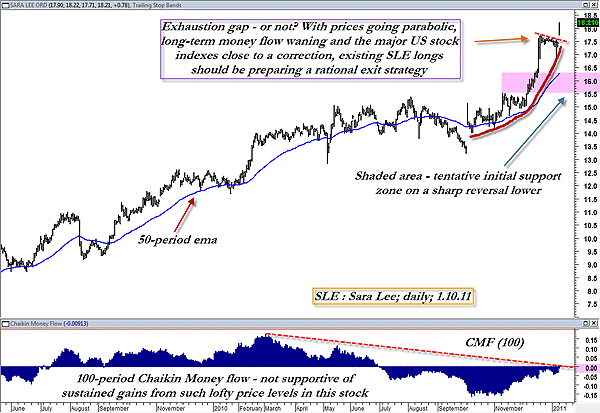 FIGURE 1: SLE, DAILY. With the long-term money flow well below the levels needed to fuel a sustained advance in this stock, existing longs should view this recent upsurge as a prime opportunity to scale out and/or sell out of their positions -- and soon.
Graphic provided by: MetaStock.
Support and resistance (S/R) levels are the single most important technical dynamic you will ever encounter on a price chart, with the second most vital dynamic being a combination of trend and/or the time/price relationships between the price swings that compose a given trend. If you can consistently learn to identify areas on the chart where S/R levels coincide with key time/price turning points, you're likely going to be a very successful trader indeed.

Not far behind these twin price dynamic powerhouses would have to be the intelligent understanding of money flow dynamics to a given market. Quite simply, if the money flow trend is substantially diverging from price action on the chart, the probabilities are high that the price action will start to adjust to the underlying flow of money into or out of a given security -- usually with a bang, if the divergence gets really extreme -- and this is usually when major trend reversals begin to take form.

And that's exactly what's shaping up here in SLE; the stock continues to surge higher, even though its long term (a 100-period Chaikin money flow (CMF)(100) is used in this example) is still well below its zero line and also significantly below the CMF values seen in several previous swing highs (those seen in July 2009, November 2009, February 2009, and May 2010) made on the grind higher from the major March 2009 low. Think of it this way. If volume (or the lack of it) is the fuel that drives an up (or down) trend, just how much progress is an existing uptrend going to make if the volume (the basic ingredient of all money flow indicators, including the CMF) intensity is continually eroding? At some point, the stock will reverse lower -- perhaps violently -- and a major correction will ensue to rectify the deficient money flow-price divergence. It works in similar fashion at major market lows, too -- just prior to a surprise rally at the depths of a seemingly hopeless bear market.


If my interpretation of this daily SLE chart is correct, what we are seeing right now is an exhaustion gap that will draw in the final rush of naive/ignorant traders into shares of this consumer staples sector stock. This may then set up the final push higher prior to a nasty correction, especially if the broad US markets begin to tumble (and there is plenty of technical evidence suggesting that this may occur in a big way before January is done) again. This correction, should it ensue as anticipated, is simply the market's way of bringing a given market back into equilibrium once the money flow has begun to diverge in a negative way with the price action on the chart. For unskilled chartists, these kinds of reversals always seem to catch them off guard, forcing their positions toward the losing side of the ledger. Fortunately for you, you need never be one of these market victims again, for you now possess the means to at least logically anticipate (but not perfectly time -- we're talking generalities here, not pinpoint market timing techniques) nearly every major corrective move and or full-blown trend reversal in virtually any freely traded market that supplies volume information.

Learn to make wise use of this important technical dynamic and you'll be far better equipped to profit from the big price moves seen at important market turning points. Plenty of Standard & Poor's 500 stocks are displaying similar patterns these days, so why not pull up a variety of charts today and see what their own money flow situation is advising you to prepare for? It will be time well spent.


---
Donald W. Pendergast, Jr.
Donald W. Pendergast is a financial markets consultant who offers specialized services to stock brokers and high net worth individuals who seek a better bottom line for their portfolios.
Title:
Writer, market consultant
Company:
Linear Trading Systems LLC
Jacksonville, FL 32217
Phone # for sales:
904-239-9564
E-mail address:
lineartradingsys@gmail.com

Traders' Resource Links

Linear Trading Systems LLC has not added any product or service information to TRADERS' RESOURCE.
---
Click here for more information about our publications!
PRINT THIS ARTICLE