Practically speaking, this rally appears to be running on nothing more than the fumes of speculative mania and mindless hedge fund buying. Technically speaking, this market has given wise traders and investors several key early warning alerts since late autumn 2010 that a substantial trend reversal was in the works. Here's a quick look at the current state of the silver futures market, using the mini-silver continuous daily chart as our guide.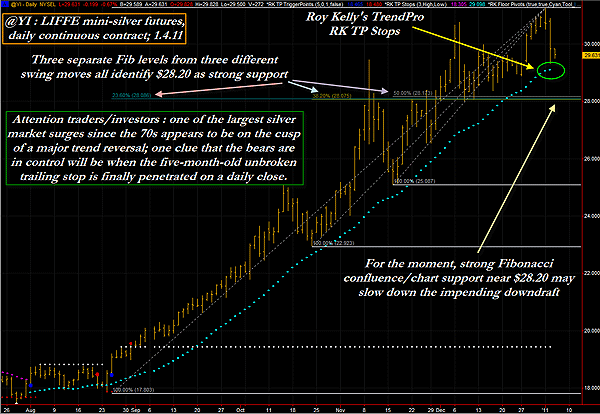 FIGURE 1: LIFFE MINI SILVER FUTURES, DAILY. This escalator ride may have reached the top floor, silver shoppers, and the metal is flying off the shelves fast -- from the storehouses of knowledgeable traders and investors and right into the eager hands of impatient and naive market participants.
Graphic provided by: TradeStation.
Graphic provided by: Roy Kelly TrendPro RK TP Stops.
Figure 1 is a very simple daily graph of NYSE/LIFFE mini silver futures and it says so much -- just look at the unbroken (for more than five months running) trailing stop line. We all know that every trend ends at some point, so when you see that aqua-dotted trail (it's called the Roy Kelly TrendPro RK TP Stop) penetrated by this market on a daily closing basis, you may have all you need to know about the intention of this market to consolidate and/or retrace at least a portion of its massive gains since last summer.

To help identify a likely and logical near-term support level, I ran three separated Fibonacci retracement grids on all the major swing lows from July 28 and connected them all at the recent high at $31.278. Amazingly, the 50% level of the nearest swing agrees with the 38.2% level of the next longer swing, which just also happens to agree with the 23.6% level of the longest swing of all -- the complete, manic, July to January trend thrust. They all fall within a 10-cent range ($28.075 to $28.173) and also coincide with the lower end of a small chart support area near $28.

This may be the most likely place for a dropping silver price to find some support, allowing sharp intraday traders to grab a few long reaction rally setups on the 15- to 30-minute time frames. True silver bulls will probably view the support area as yet another place to add more silver to their already bulging portfolios -- thinking that is yet another time to latch onto another surge higher, but the fact is that if this were a major reversal under way, such a support area would actually be their last and best opportunity to liquidate their long positions and stand aside for a better long entry spot. Only time and patience will tell how all of this will pan out, but from virtually all technical angles, this is not the best time to be loading up on silver (or gold). Patience will almost surely pay off in a situation like this, allowing true silver bugs to wait for a much lower risk long side reentry point.


For those of you who haven't yet traded the NYSE/LIFFE metals mini silver futures, they really do offer some real advantages compared to trading the full-sized Comex silver contracts. Since the value of the LIFFE mini silver contract is only a fifth of the full-sized Comex version, traders with smaller accounts can better make use of the very tiny initial margins required to trade it -- currently only $2,090 per contract (at TradeStation Securities). That $2,090 in margin allows you to control $29,715 of silver, giving you tremendous leverage that can allow you to rapidly increase (or decrease) that value of your futures margin account with only modest swings in the value of the silver futures market. Obviously, you can't expect to be a gunslinger and go into this (or any other highly leveraged market) arena, guns blazing, hoping to make consistent profits without relying on some sort of a logical and fully tested trading system or methodology at your side -- one that you truly trust and believe in.


Watch the action unfold in the silver, gold, and stock index futures markets over the days and weeks to come, and you'll likely not have a dull moment. This is shaping up to be a bear market to remember, and also one for the record books, if certain Elliott wave practitioners' wave counts turn out as anticipated. Hang on for a wild ride in 2011!