PRINT THIS ARTICLE
RATE CHANGE - PRICE
---
Bonds Bouncing Between Extremes
01/03/11 09:24:46 AM
---
by Mike Carr, CMT
---
Bond prices are in the news, a few weeks ago as a bubble and now as a crash. The rate of change indicator helps evaluate these claims.
Security:
TBT
Position:
N/A
The 10-year US Treasury futures contract serves as a proxy for bond prices in the minds of many traders. Prices rose nearly 15% from the beginning of 2010 into the November high. Moves like this are rarely associated with bubbles in the minds of traders. But traders are usually more concerned with how to profit from a move rather than what to call a price move.


The rate of change (ROC) indicator can help a trader see when prices have moved too far, too fast. While the percentage change in bonds was certainly not at bubble-like levels, the ROC showed that the upward move was certainly powerful and worth watching. In Figure 1, we show price, along with a 26-week ROC, and we add Bollinger bands to the indicator.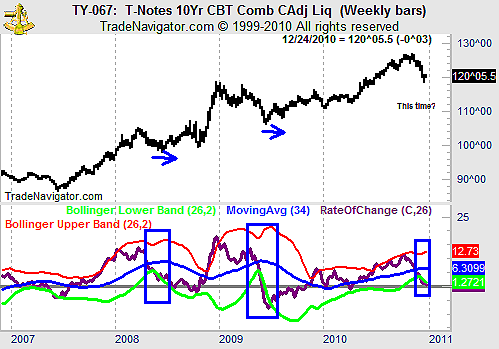 FIGURE 1: 10-YEAR TREASURY NOTE, WEEKLY. ROC can help spot unusually rapid price moves, as highlighted in this weekly chart of the 10-year Treasury contract.
Graphic provided by: Trade Navigator.
The chart highlights that the ROC fell below its lower Bollinger band, once in 2008 and once in 2009. Both times marked intermediate-term bottoms in price. Interestingly, touches and breaks of the upper band have been associated with both continuations and consolidations, offering no real indication for traders.


We certainly don't know if the bond selloff is over. But ROC is telling us that we need to be watching for a potential consolidation. While prices are not showing extremes, the ROC is, and that is one indicator that traders could benefit from watching.



---
Mike Carr, CMT
Mike Carr, CMT, is a member of the Market Technicians Association, and editor of the MTA's newsletter, Technically Speaking. He is also the author of "Smarter Investing in Any Economy: The Definitive Guide to Relative Strength Investing," and "Conquering the Divide: How to Use Economic Indicators to Catch Stock Market Trends."
---
Click here for more information about our publications!
Comments
Date:
 01/04/11
Rank:
 4
Comment:
PRINT THIS ARTICLE