PRINT THIS ARTICLE
REVERSAL
---
FSAGX Gold Stocks Do An About-Face
12/17/10 08:57:23 AM
---
by Donald W. Pendergast, Jr.
---
Having risen by more than 275% between October 2008 and December 2010, shares of the Fidelity Select Gold mutual fund now appear to be seeking firm support after such a powerful rise.
Security:
FSAGX
Position:
N/A
Get on the right side of the trend (up or down) in many gold stocks, and you can expect to make some serious money as long as you manage your risk and have a rational way to know how/when to exit when a trend move begins to reverse. Here are a few ideas for dealing with the recent pullback in shares of the Fidelity Select Gold fund (FSAGX).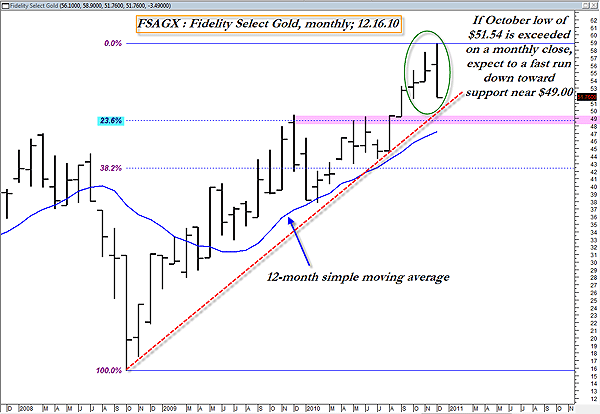 FIGURE 1: FSAGX, MONTHLY. If the three support areas on the chart can hold, with the stock bouncing back up toward or even above December's high at $58.90, the major uptrend will be considered intact. However, if you see the red dashed uptrend line broken along with the Fibonacci 23.6% support and the 12-month simple moving average, then you may want to adjust your perceptions of the strength in the gold mining equities market.
Graphic provided by: MetaStock.
Monthly charts may not be the choice of active daytraders, but for those who hold long-term positions in various stocks, exchange traded funds (ETFs), and commodities, they come in very handy indeed. Plotting a 12-month simple moving average (SMA) is always a good idea on these long-range charts, as it can instantly help you to determine if a strong trend is under way. Many institutional traders watch the 12-month SMA of any number of financial markets, and when a decisive monthly close is accomplished beyond this key trend-delineating line, you can expect the big money interests to pay close attention.

On FSAGX's monthly chart (Figure 1), the 12-month SMA is still rising but has just begun to slow its rate of ascent. That's not surprising, seeing how quickly the fund has reversed in the past two weeks, dropping from $58.90 to $51.76 in that brief span of time. Obviously, after putting in such a stellar performance, some holders of this fund decided to do a little housecleaning before a potentially larger correction could occur. And they do occur from time to time -- and how! Look at the plunge in 2008, in which more than three years of prior gains were wiped out in less than eight months. Nobody is necessarily expecting a similar kind of collapse now, but with December's price action hinting that further declines -- perhaps down to significant support near $49 -- are a high probability now, wise traders and investors may wish to reevaluate their current level of exposure to this highly volatile fund.


The most likely place to expect FSAGX to find initial support (especially if October's low of $51.54 is taken out by December's close) is the combined Fibonacci 23.6% retracement level of the giant 25-month uptrend and the prior swing highs formed by the upper channel line of a beautiful ascending triangle (which proved out for the bulls) (see pink shaded area on chart). Just below that is the 12-month SMA, currently at $47 and rising; this should also act as at least a minor stopping point, should the fund continue to trend lower.


Gold futures have a mixed seasonal trend during December, with the first half of the month normally exhibiting the most weakness and the second half usually manifesting very good strength. So who knows? Maybe if gold futures start up back toward $1,400, it may provide a new influx of buying power into FSAGX and othe gold funds and ETFs. But until you see this fund actually make a strong bullish reversal on its monthly chart, you should play it safe and make sure you're not vulnerable to a large (and usually unexpected) correction that could wipe out many months of hard-won gains. It's happened before in the world of gold and silver stocks, and it probably won't be the last time, either.


---
Donald W. Pendergast, Jr.
Donald W. Pendergast is a financial markets consultant who offers specialized services to stock brokers and high net worth individuals who seek a better bottom line for their portfolios.
Title:
Writer, market consultant
Company:
Linear Trading Systems LLC
Jacksonville, FL 32217
Phone # for sales:
904-239-9564
E-mail address:
lineartradingsys@gmail.com

Traders' Resource Links

Linear Trading Systems LLC has not added any product or service information to TRADERS' RESOURCE.
---
Click here for more information about our publications!
Comments
Date:
 12/21/10
Rank:
 4
Comment:
PRINT THIS ARTICLE