Money flow indicators come in several varieties; you've got on-balance volume (OBV), the positive and negative volume indexes (PVI and NVI, respectively), accumulation/distribution (AccDis), and the Chaikin money flow indicator (CMF), among others. They all do a good job of alerting traders and investors to impending trend reversal moves, but you need to confirm their output with numerous other technical and fundamental market measures in order to put them to the best use. In addition, you'll also need to be patient to ultimately benefit from the bullish/bearish divergences with price action that they are very good at locating -- sometimes well in advance of a major market turn.

Here's what the CMF indicator is suggesting is in store for one of the hottest stocks in the entire Standard & Poor's 500 -- Priceline.com (PCLN). See Figure 1.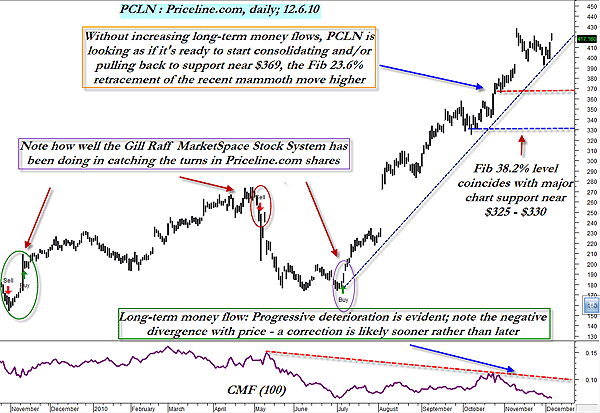 FIGURE 1: PCLN, DAILY. While this uptrend in Priceline.com is impressive, its long-term money flow is sputtering, looking ready to drag the stock back down toward at least $369 for a rest before further gains (if any) are seen in the near future.
Graphic provided by: MetaStock.
Graphic provided by: Gil Raff expert advisor from MetaStock 11.
Right now, shares of Priceline.com have one of the best long-term relative strength rankings of all the S&P 500 component stocks, and one look at its daily graph since the last Raff Market Space timing system buy signal was triggered on July 7, 2010, should easily confirm this. It's been an amazing run higher since then, with the stock up by nearly 120% since then.

Perhaps having actor William Shatner, best known for his role as Captain James T. Kirk, as the TV ad promoter for PCLN helped the rise as well -- maybe he said something along the lines of "Beam my shares up, Scotty!" Or maybe he took out his Star Trek communication device and punched a few buttons and placed a buy order for 20,000 shares of PCLN at his KlingonTrader.com deep-discount stockbroker. Who knows, but maybe Mr. Stock (the dude with the funny eyebrows and the pointed ears) knows more than he's willing to say at this point. Bones, by the way, also happens to agree with my diagnosis for PCLN shares.

While it's not usually a wise thing to begin planning the demise of a well-established uptrend in a high relative strength stock like PCLN, the fact that the stock is exhibiting a major negative divergence with one of its key long-term money flow indicators (the CMF indicator at the bottom of the chart) is a very loud early warning signal to those traders/investors with significant exposure in this high-priced large-cap issue.

Eventually, either PCLN continues higher with the money flow back in agreement or the stock starts a substantial correction, with $369 being the first logical price target area. That's a zone with a minor swing low support and the first testing area for any major trend reversal and/or correction -- the Fibonacci 23.6% retracement level.


You also want to be monitoring the long uptrend line that's stretching upward for five months now; a sharp break of it could be the first tipoff of the stock's intentions to run south to the 23.6% Fibonacci level -- and most likely in a hurry. Technically, I could and should have run that uptrend line closer in to the last several swing lows, and if I'd done so, we'd already see that the stock had already broken the major uptrend line. So if the one drawn on the chart gives way on big volume, prepare to see all hands on deck and lots of fingers on the sell button.


By the way, one of the preloaded expert advisors that comes with MetaStock 11, the Raff Market Space stock system, has done a nice job of calling the major trend reversals in PCLN over the past two years. It's an interesting system, one whose signals you can apply to any stock or futures chart in your MetaStock database. Try it out on the stocks you follow along with the other technical and fundamental tools you use to identify, place, and manage your trade positions. You'll probably like what you see.