It was hard to reconcile the news headline of "Two million to lose extended unemployment benefits ahead of Christmas holiday season" with the reality that the emini S&P 400 Mid-Cap futures (EMDZ10) had risen by nearly 15 points ($1,500) since Tuesday's (November 30) close of 849.50. Regardless, I always hate to see that large gap between sessions, knowing that in many cases, the lion's share of the trending move has already played out -- for the time being. Traders able to trade the overnight session before the Chicago open at 0830 on Wednesday (December 1), however, were able to latch on to a rocket ride higher that would have quickly made them five, 10, or even 14 mini EMDZ10 points. I'm not saying that making this many points would have been easy, just that the opportunity to make money during this particular time window was very real, depending on your level of experience. See Figure 1.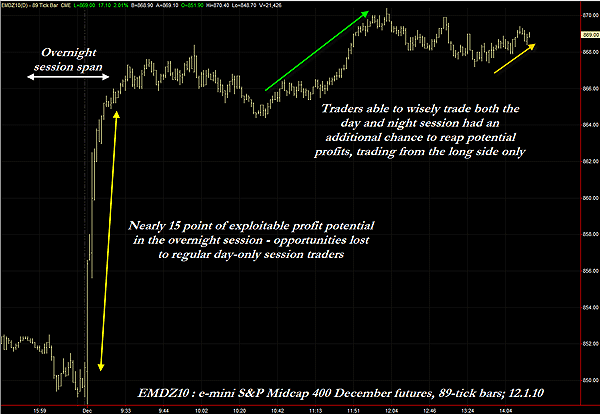 FIGURE 1: EMDZ10. For traders willing to expand their horizons, trading the overnight session may provide them with new opportunities to deploy their well-thought trading methods. Here, the emini S&P Mid-Cap 400 futures contract (EMZ10) stages an explosive rally in the overnight US trading session.
Graphic provided by: TradeStation.
The easiest way to trade both sessions of a given market is to create an automated strategy that will enter and exit all of the trades for you. Of course, you may need to consider many factors before selecting the appropriate market to trade in an overnight session (we're talking about futures markets here, not necessarily forex trading, which basically trades 24/5, 365 days a year in most cases). The emini S&P Mid-Cap 400 futures are a bit light in the volume department for serious automated trading in the overnight session, but it can still be a worthwhile market to consider, nonetheless.

Truly serious overnight session traders seeking full-system automation would probably be much better served by trading the emini S&P 500 futures (ESZ10) or the emini NASDAQ 100 futures (NQZ10) as the volume is much greater, allowing for better quality fills on your trade entries. In future articles, I hope to demonstrate a reasonably effective emini trading system that can be used to trade both the day and/or night sessions -- with your computer set on autopilot.


Overnight session trading can also be a great time to trade on news or political events coming out of Europe or Asia; for example, perhaps news concerning Coca-Cola, Ford, SAP, Intel, or other global captains of industry is hitting the wires in Europe at 0600 New York time, or maybe the North Koreans have backed off and are making nice with the South Koreans and Americans, causing a sudden spurt in US stock index futures that you can quickly take advantage of, ahead of the rest of the crowd that show up at their trading screens at 0930 New York time. Forex traders are keenly aware that there are several prime trading windows that offer the best overall chance for success every trading day, and if you are a serious futures trader, you too can learn when the best time to trade around earnings releases, FOMC events, options expiration, triple witching Fridays, and so on.


No one knows if we will ever see a truly 24/7/365, nonstop global futures, forex, stock, or bond market; in fact, it may be far wiser to keep the current market structure going for as long as possible, for various reasons, but in the meantime, why not examine the various ways that you may be able to capitalize on the strong market moves that your favorite stocks and futures contracts always seem to make -- when you're not watching your trading screen during regular hours.