PRINT THIS ARTICLE
KELTNER CHANNELS
---
Silver More Evidence Of A Possible Reversal
10/12/10 08:32:18 AM
---
by Donald W. Pendergast, Jr.
---
Most trend reversals give several warning signals before the turn finally comes. Here's another high-probability reversal setup in COMEX mini silver futures.
Security:
YI, SI
Position:
Sell
Up nearly 26% in only six weeks, the silver market continues to impress traders and investors alike. To latecomers, the recent pullback may appear to be a great "buy the dips" long entry setup, but a closer examination of the chart reveals that the true nature of the situation may be quite different; it might be the perfect time to take profits and/or get ready to go short.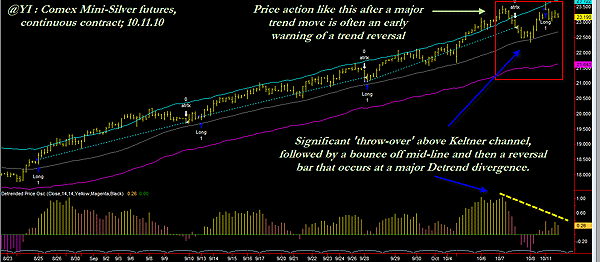 FIGURE 1: SILVER. Keltner channel and detrend oscillator interactions can frequently help traders and investors to identify high-probability trend reversal and divergence patterns. Here, a close below the Keltner midline (silver line), followed by a break of the recent cycle low at $22.35, would imply a larger degree move lower down toward the lower channel line near $21.65.
Graphic provided by: TradeStation.
Keltner channels aren't a perfect trading tool, but they can and do provide an objective way to determine likely areas of support, resistance, and trend reversal points. Take Figure 1, a chart of COMEX mini silver futures (YI), for an example. Note how the price generally stayed within the upper channel during the past five weeks, only recently rising strongly above it in a "throw-over" pattern, one that brought price back inside the bands and then down to the midline (a 45-period exponential moving average [EMA]) before rising again, only to stage a sharp intrabar (this is a 491-share volume chart) reversal right near the upper band, with prices now drifting lower.

This notable rejection of higher price levels now taking place -- even as the detrend oscillator (bottom of chart) is printing a massive bearish divergence pattern with price -- is likely one of the last warnings this market will give (on this time/volume frame, anyway) that mini silver will give prior to a break below the Keltner midline on the way toward the lower Keltner channel near $21.65. In particular, look for a fresh wave of selling if $22.35 (the recent cycle low) is taken out soon.




Does this chart mean that the bull market in silver is over? Not necessarily. However, even the largest-degree trend reversals sometimes begin with relatively inconspicuously small tremors that eventually turn into major market landslides. If that's the case this time around, you definitely don't want to be on the receiving end should this silver mount turn into a silver rout.

Silver falls much, much faster than it rises, as anyone who remembers the 1980 and 2008 collapses in this particular market can attest to, so be sure and run a close stop if you're already long this market and be looking for suitable short sale setups, especially if that low at $22.35 is taken out. With investor sentiment overwhelmingly bullish in the silver camp right now, be ready for this market to make a nice move -- either up or down. The probabilities favor the short players at the moment, so make the most of the opportunities that the silver market may offer you.


---
Donald W. Pendergast, Jr.
Donald W. Pendergast is a financial markets consultant who offers specialized services to stock brokers and high net worth individuals who seek a better bottom line for their portfolios.
Title:
Writer, market consultant
Company:
Linear Trading Systems LLC
Jacksonville, FL 32217
Phone # for sales:
904-239-9564
E-mail address:
lineartradingsys@gmail.com

Traders' Resource Links

Linear Trading Systems LLC has not added any product or service information to TRADERS' RESOURCE.
---
Click here for more information about our publications!
Comments
Date:
 10/20/10
Rank:
 4
Comment:
PRINT THIS ARTICLE