PRINT THIS ARTICLE
TRADING SYSTEMS
---
Silver And A Swing Trading View
10/06/10 09:20:20 AM
---
by Donald W. Pendergast, Jr.
---
Even in the hottest commodity markets, swing trading systems can and do go flat -- for a little while, that is.
Security:
SI, SLV
Position:
N/A
Somewhere between the extremes of intraday scalping and long-term position trading lies the exciting and sometimes profitable world of swing trading. The name says it all: traders using this style of attempted profit extraction from the market are focused on maximizing the potential for gains as a given market makes a sustained three- to eight-day swing in a given direction. Here's a look at a silver futures swing trading system, one that typically chops around before embarking on a profitable series of moves.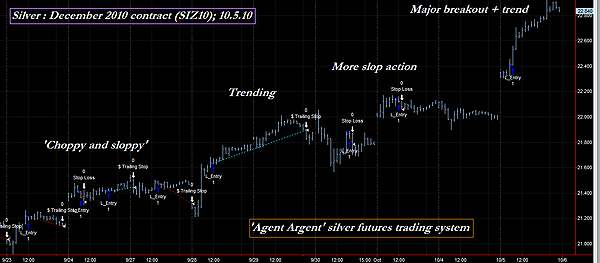 FIGURE 1: AGENT ARGENT SYSTEM. To chop or to trend: that is the question. With this silver futures trading system, you get plenty of both, and if your nerves can handle a 37% win rate, you might make a nice rate of return on your futures account margin -- over time.
Graphic provided by: TradeStation.
This is my current silver futures trading system; it trades an intraday time frame and will usually hold a position for one to four trading sessions, depending on how volatile the silver market is. It's doing very well, despite the fact that its winning percentage is only 37%. That is not a typo -- this system wins on fewer than four out of 10 trades, but when it does win, the winning trades are 2.94 times larger than the losing trades. Right now, the system is long December silver futures (SIZ10) from $22.41 and has an open trade profit of $2,150 before commissions. For all I know, this trade could turn into a $5,000 winner or perhaps stop out with a "mere" $1,400 gain -- only the silver market itself knows how it will all turn out. See Figure 1.


Of course, you should also know that the system had only three winners out of the previous 10 trades (a 30% win rate) and a net loss of -$1,150, including a $20 round-trip commission per contract. So perhaps the system is getting back into its groove again. This system is constructed so as to only take breakouts when an established trend is in existence and to then ride the emerging intraday trend for as long as is practicable.

An interesting side effect of this is that I am always alerted to major trend reversals ahead of those traders who only track the silver market on a daily or a weekly time frame. For example, once this lovely series of bullish stair steps finally ceases (probably with a bang), I may be afforded an opportunity to go short silver earlier than those who need to wait a day or two before getting a daily confirmation of the trend reversal. Then it will be a matter of stair-stepping lower as the new short swing trading signals are generated by the system. Since silver falls rapidly and violently on a major corrective move, this system is in a very advantageous position to make the most of such plunges. Once silver bottoms out at significant daily and/or weekly support, the process will likely reverse and the system will again start latching onto any bullish swings that commence.



System trading can be a tough go at times, but compared to the stress and aggravation of active discretionary intraday scalping, it's actually a much easier way to play the markets, affording much more time for other nontrading activities. And since every aspect of the system can be statistically quantified, there is an added emotional comfort in knowing that the numbers and probabilities are on your side, even when the sledding gets rough. But when silver breaks higher or lower and a beautiful (and highly profitable) swing move gets going, there's really no feeling to compare it to. The big idea is to make the most of the trend swings that develop while also minimizing the damage caused by a series of losing trades. This silver futures system appears to be on the right track in that regard, and I will be refining it more and more as I learn all of its quirks, strengths, and mysteries. Stay tuned for further updates.


---
Donald W. Pendergast, Jr.
Donald W. Pendergast is a financial markets consultant who offers specialized services to stock brokers and high net worth individuals who seek a better bottom line for their portfolios.
Title:
Writer, market consultant
Company:
Linear Trading Systems LLC
Jacksonville, FL 32217
Phone # for sales:
904-239-9564
E-mail address:
lineartradingsys@gmail.com

Traders' Resource Links

Linear Trading Systems LLC has not added any product or service information to TRADERS' RESOURCE.
---
Click here for more information about our publications!
PRINT THIS ARTICLE