The reversed moving average convergence/divergence (MACD) trading system was originally featured in the March 2009 issue of Technical Analysis of STOCKS & COMMODITIES. In that article, entitled "Trade System Evaluation," I used this simple system (a standard MACD crossover system that has the entry and exit triggers reversed) to test a full portfolio of large-cap stocks over a nearly two-decade time period.

In April 2010, I also ran the same system on shares of Newmont Mining (NEM) here in a Traders.com Advantage article dated April 5, 2010. Let's see how the reversed MACD system has performed on NEM since then, using the same exact indicator input settings, account equity, commission/slippage, and minimum share sizes as in the original test (Figure 1):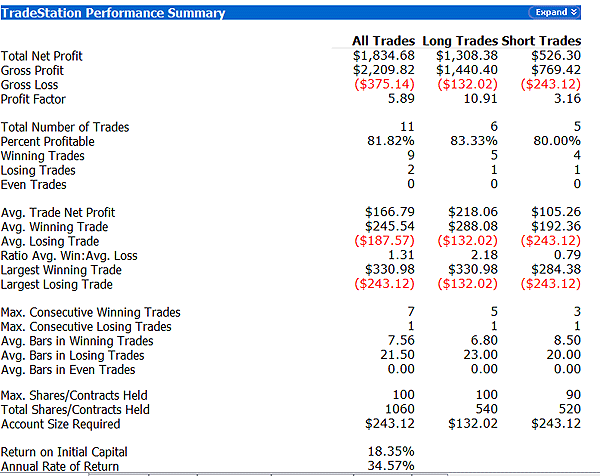 FIGURE 1: FORWARD TESTS, NEM. While these forward-test results are better than average, the really exciting aspect of these statistics is that they were obtained by running the system on a previously unseen dataset. Newmont shows consistently good results with this system over large quantities of daily data.
Graphic provided by: TradeStation.
For such a simple system -- a stop & reverse system that has no hard-wired stop-loss -- the results are very impressive. Take a look at the forward-test stats:

Winning trades: 9
Losing trades: 2
Long trades: 6
Short trades: 5
Winning pctg: 81.82%
Profit factor: 5.89
Largest winner: $331
Largest loser: $243

Max consecutive winners: 7
Max consecutive losers: 1

Net profit: $1,835

These results were obtained with the same MACD inputs that were used during the in-sample testing period of April 1, 2007, through April 4, 2010, which are 18-32-8. In addition, the same account dollar allocation per trade was used -- $5,000 -- with a minimum trade size of 50 shares and five-share increments. Commissions and slippage were set at $0.03 per share of stock traded.

As this is a daily based, end-of-day (EOD) signal generation with next session opening entry/exit) system, it doesn't trade all that much, but the results are very consistent and profitable just the same. The fact that the system continues to perform so well on data that it has never before encountered (that is, out-of-sample data) also demonstrates the underlying validity of this trading methodology. See Figure 2.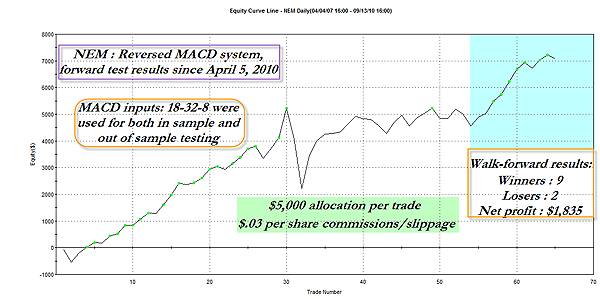 FIGURE 2: NEM. The blue-shaded area highlights the performance of the out-of-sample, walk-forward test period for the reversed MACD trading system. Can you discover a way to help minimize the nasty equity curve drawdown in the middle of the in-sample test period?
Graphic provided by: TradeStation.
At some point, the system will need to be reoptimized for NEM, but until that time comes, NEM traders should just enjoy the ride. Reoptimizing a system is part art and part science and is not easily learned, but for those willing to have their patience tested on a regular basis, mastering the discipline of trading system development will surely be time well spent.

By the way, you can copy/paste the MetaStock and TradeStation code for this system by going to the following webpage:

http://traders.com/Documentation/FEEDbk_docs/2009/03/TradersTips.html#TT14

The reversed MACD trading system can be an excellent tool, one that can help you get a solid footing as you begin to navigate the treacherous pathways that may lead to ultimate trading success. Try the system out on the stocks, exchange traded funds, and futures contracts you trade and you may not need to do quite as much "system shopping" anymore.