With the talk of a double-dip recession being promoted by Republicans and bears, market players have been moving to gold shares as a hedge rather than hide their money in the mattress of their beds. (Banks are too risky; they have shown us that.) With the market starting to turn decidedly bullish, what does the future look like for gold? To give us direction as to where gold is going, I have analyzed the chart of StreetTracks Gold.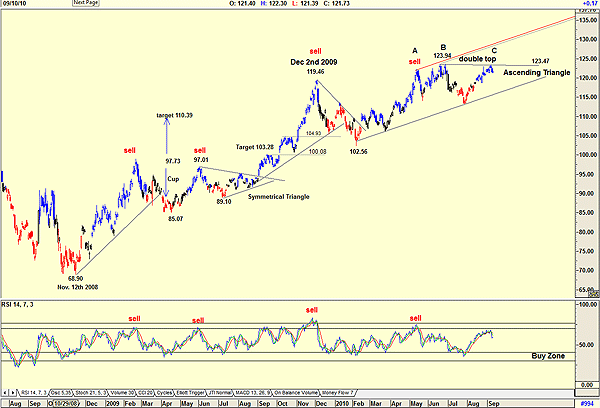 FIGURE 1: STREETTRACKS GOLD, DAILY
Graphic provided by: AdvancedGET.
From November 12, 2008, the share price started moving up from a low of $68.90 and formed a cup & handle formation that gave a target of $110.93 (Figure 1). The price then moved into a symmetrical triangle formation before reaching the target of $110.39. The symmetrical target formation gave a target of $103.28. Of course, the target of $110.39 is more acceptable. As you can see on the chart, the price moved to $100.08, then corrected; moved to $104.93 and once again corrected, and then moved up to a high of $119.46 by December 2, 2009, before correcting to $102.56. In all the corrections, the relative strength index (RSI) gave sell signals.

What is the chart telling us now? On one hand, the chart is suggesting an ascending triangle formation, with a possible target of $145.32 (123.94 - 102.56 = 21.38 + 123.94 = 145.32). On the other hand, it is suggesting a double top, shown by B and C and a possible triple top, shown by A,B, and C. Note that the RSI has not given a sell signal, suggesting that the target of the ascending triangle is a more definite result.

With the shares of StreetTracks gold leaning more toward an upward move than a downward correction, by all accounts, the Dow Jones Industrial Average and the Standard & Poor's 500 should correct downward.

However, uncertainty does exist. As an example, I offer the chart below (Figure 2).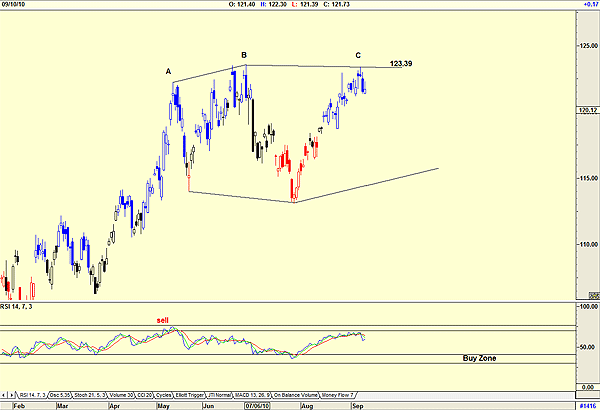 FIGURE 2: STREETTRACKS GOLD, DAILY. This daily chart shows a possible diamond formation.
Graphic provided by: AdvancedGET.
Figure 2 suggests that a diamond formation could be developing. Diamond formations suggest uncertainty. A move above $123.39 would shatter this suggestion and confirm the ascending triangle target of $145.32.


FIGURE 3: GOLD. This chart suggests strength.
Graphic provided by: OmniTrader.
Figure 3 uses the red-green strategy. The chart shows that a buy signal was given on April 8, and that it is still in force. The chart also shows that both the RSI volume and the stochastic RSI cycle indicators are both oversold. The chart is suggesting that a buy signal could be given in the near future.

To conclude, StreetTracks gold is suggesting uncertainty as to whether to buy gold shares, whether the market is truly in a new bull market. All my forecasts show that a new bull market is in force; however, the chart of StreetTracks Gold is telling us that with every correction in a bull market, money will move to gold.