PRINT THIS ARTICLE
DETREND PRICE OSCILL
---
Is Gold In Need Of More Fuel?
09/08/10 08:34:54 AM
---
by Donald W. Pendergast, Jr.
---
Attempting to pick a market top is foolish, but many times a market nearing a significant cycle high is kind enough to issue an early warning of a possible trend reversal.
Security:
GC, GLD
Position:
N/A
To all new traders in the audience, take a good look: This is what a significant up trend looks like. Impressive, isn't it? But is this decade-long uptrend in gold already warning us that some major changes are just around the bend? Here's a brief look at the monthly chart for the gold futures market and the simple message it may be sending to those willing to take a second, more objective look at this emotionally charged market. See Figure 1.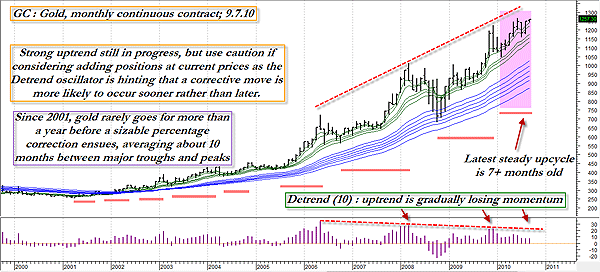 FIGURE 1: GC, MONTHLY. With the spreads between the short- and long-term Guppy averages being so wide already, the added concern of the steadily declining upward momentum of this market should be the center of attention for all serious gold market participants.
Graphic provided by: MetaStock.
Graphic provided by: WB Detrend RT EOD from ProfitTrader for MetaStock.
First, there's the obviously bullish angle here -- gold is in a confirmed uptrend of immense proportion, with the spreads between both the short-term and long-term Guppy moving averages in uber-bull territory. In addition, the series of higher highs and higher lows is still in good shape.

Now, the bad news -- after making a super-high detrend reading at the May 2006 monthly swing high, this key momentum/cycle indicator has repeatedly failed to match the high of the previous detrend reading. For example, the detrend high in 2008 was noticeably lower than the May 2006 detrend, just as the late 2009 detrend reading was lower than the March 2008 detrend reading. Granted, the May 2006 was the result of an interim blow-off top in gold, but see how the runup to the March 2008 high was nearly as frantic while failing to match the lofty levels of the 2006 detrend peak. Next in line was the December 2009 gold spike to $1,226 per ounce -- the detrend again failed to follow through with a reading surpassing either of the two previous peaks.

Now, with gold again pulling out of another valley -- and only $7 shy of its all-time nominal high to boot -- the detrend is a great deal lower than it was just a few months ago at the $1,265 high. This is not a good sign for the intermediate-term uptrend in gold, and it is a classic sign of an impending trend reversal, exact timing as yet unknown (is it ever really known before the fact?).


Also on the chart, note the red horizontal bars that approximate the average trough-to-peak up cycle of the gold market since early 2001; if you average all of them out, you find that the average length of each significant upthrust is about 10 months, after which a statistically significant corrective move took gold back down to previously established support levels. With the obvious bearish divergence of the detrend oscillator in full force, the fact that the current up cycle is more than seven months old should also serve as a cautionary alert for those already long significant amounts of gold futures contracts. And as pointed out last week, the fact that the Commitment of Traders' large spec positions are also manifesting a bearish divergence with the gold price is yet another red warning flag that we may be in the final stages of this current up cycle.

This in no way means that the entire golden bull run has just met the equivalent of a brick wall, but it could mean that any correction that ensues could be more than a small garden-variety kind of the past couple of years.

Forewarned is forearmed, so if this advice resonates with you, be sure to run a closer stop on existing gold longs and/or consider easing up in this market, waiting for a more opportune time to locate an attractive long reentry point.


---
Donald W. Pendergast, Jr.
Donald W. Pendergast is a financial markets consultant who offers specialized services to stock brokers and high net worth individuals who seek a better bottom line for their portfolios.
Title:
Writer, market consultant
Company:
Linear Trading Systems LLC
Jacksonville, FL 32217
Phone # for sales:
904-239-9564
E-mail address:
lineartradingsys@gmail.com

Traders' Resource Links

Linear Trading Systems LLC has not added any product or service information to TRADERS' RESOURCE.
---
Click here for more information about our publications!
Comments
PRINT THIS ARTICLE