PRINT THIS ARTICLE
TRADING SYSTEMS
---
Akamai Technologies And Its Believable Breakout
09/03/10 08:52:11 AM
---
by Donald W. Pendergast, Jr.
---
Some breakouts work right away, others fail miserably, and still others simply take their sweet time, driving action-hungry traders crazy. The new break higher in Akamai Technologies looks like one that may get going very soon.
Security:
AKAM
Position:
Buy
If you're a "buy low, sell high" sort of trader, well, maybe this isn't the best trade setup for you right now. But if you're the type who prefers to buy high and sell higher, then this new bullish bustout in Akamai Technologies (AKAM) might be the perfect cup of tea. Here's a not-too-technical view of the probabilities for success for those wanting to jump on board this powerful move.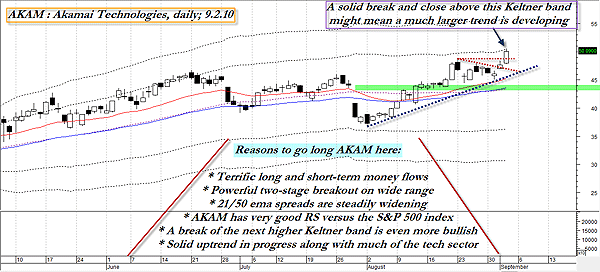 FIGURE 1: AKAM, DAILY. I found at least six bullish reasons to go long AKAM by way of a near-term covered-call play but can't find a single bearish clue. The entire tech sector remains very strong, a big plus for AKAM longs here.
Graphic provided by: MetaStock.
As much as I enjoy system-trading the emini stock index futures contracts, sometimes it's hard for me to not at least want to take a shot at an attractive discretionary trade setup like this one in Akamai Technologies (Figure 1).

No, there's no pretty green system buy arrow to tell us when to buy AKAM here, but with all of these positive technicals at work, who needs a system for this setup, anyway? After all:

* Solid uptrend in progress
* AKAM is easily outperforming the .SPX over the last calendar quarter
* The stock has just completed a very convincing two-stage bullish breakout
* The stock boasts very attractive money flows, flows it will need to power significantly higher
* The stock is just shy of the next higher Keltner band; a strong close above this key resistance barrier means the stock may be destined for a larger degree of trend move
* The spread between the 21- and 50-period exponential moving averages (EMAs) is steadily widening, yet another bullish confirmation.



FIGURE 2: OCTOBER CALL. Selling a near-term at-the-money call against a powerfully trending stock during a bullish phase in the broad markets can be one of the simplest and easiest pathways to regular trading income. This one will yield nearly 51% annualized if AKAM is called away at October option expiry.
Graphic provided by: Thinkorswim.
Playing AKAM here might involve something as simple as buying an October $50 covered call for about $46.90 or better. If the stock keeps on trucking higher and the stock is called away at $50 on the third Friday in October, you'll realize an annualized return of better than 50% for a seven-week commitment of time and trading capital. And if you simply set an initial stop-loss near $44.25 and follow the position higher with a two-bar trailing stop of the weekly lows, you should be able to pretty much stay out of harm's way, assuming the market doesn't have any more "flash" crashes waiting in the wings between now and the October option expiry (Figure 2). Hey, this is the stock market and anything can happen, right?

Overall, this is one fine-looking bullish breakout and near-term covered-call play, one that has plenty of technical firepower going for it.


---
Donald W. Pendergast, Jr.
Donald W. Pendergast is a financial markets consultant who offers specialized services to stock brokers and high net worth individuals who seek a better bottom line for their portfolios.
Title:
Writer, market consultant
Company:
Linear Trading Systems LLC
Jacksonville, FL 32217
Phone # for sales:
904-239-9564
E-mail address:
lineartradingsys@gmail.com

Traders' Resource Links

Linear Trading Systems LLC has not added any product or service information to TRADERS' RESOURCE.
---
Click here for more information about our publications!
Comments
Date:
 09/07/10
Rank:
 4
Comment:
PRINT THIS ARTICLE