PRINT THIS ARTICLE
MOVING AVERAGES
---
US Dollar Index Still Looking Bullish
08/31/10 08:42:07 AM
---
by Donald W. Pendergast, Jr.
---
The US Dollar Index is at a key juncture, and technicians, traders, and investors are all eager to determine the next likely move of this critical instrument.
Security:
DX
Position:
Accumulate
The US Dollar index endured a substantial decline from 2002 through most of 2009, despite a couple of decent retracement rallies during the ride south. It was so bearish that the negative dollar and pro-gold sentiment at the time has hardly waned at all. We looked at the current COT configuration in gold last week, so now let's take a quick look at the weekly Guppy moving average configurations in the US Dollar Index (Figure 1). Something big may be in the works for both the dollar and gold, seeing as how they frequently trend in differing directions.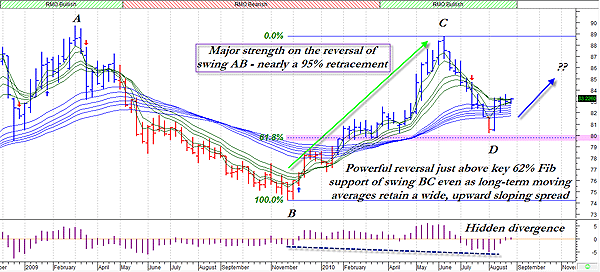 FIGURE 1: US DOLLAR INDEX. Taken as a whole, the weekly chart of the US Dollar Index seems to have more of a bullish bias than a bearish one. A weekly close above 84.00 would be particularly bullish.
Graphic provided by: MetaStock.
Graphic provided by: WB DBS10 EOD from ProfitTrader for MetaStock.
The dollar index tends to trend nicely, and the well-defined weekly swings over the past 18 months certainly help support that assertion. One of the clues that hints at the validity of the November 2009 reversal (point B on Figure 1) as a precursor to a possible major trend change is the power of swing BC, a stunning six-and-a-half month rally that retraced more than 90% of the AB swing down. Whenever a swing can retrace more than 79% of the previous move in the opposite direction, you have the first potential early warning of a major trend reversal in progress.

Now let's look at the retracement back down from point C, the swing CD down to support near the Fibonacci retracement of swing BC. The Fib 62% level held the move (swing CD down) and if you look closely, you'll also note that both sets of Guppy moving averages are still in a proper bullish configuration; the short-term set (green averages) are on top of the longer-term set (blue averages), with the longer-term set also having a wide spread with an upward bias. Note the extreme range of the bullish reversal bar coming off that Fib 62% retracement, too. Very bullish looking.

In addition, at the bottom of the chart, we find that the detrend oscillator also manifested what is known as a hidden divergence -- this is when a retracement swing of the larger trend (point D) bottoms out at a higher price than a previous major swing low (point B) with the detrend reading falling much lower at point D than at point B. It's an unorthodox way to look at the concept of divergence, but it can and does help identify many outstanding pullback entries in strong trends.



Are there some potential pitfalls to be aware of before entering a fresh long US Dollar Index position? Of course: the DX generally trends lower during the final five months of the year, according to seasonal chart analysis going back more than 20 years. But the DX also sports a relatively bullish Commitment of Traders bias with the large speculators remaining comfortably long, and they're the group that will need to power the DX higher, should it be destined to resume the rally that commenced late last autumn. If the US Dollar Index does keep on going higher, then be careful with any long gold positions you're holding because if the DX catches a fresh wave of buying, it could put a nasty dent in the aging gold rally -- a rally that has seen gold nearly double since the post-panic low of late 2008. Anything can happen in the metals and currency futures markets, so be prepared to capitalize on whatever opportunities either of these two fascinating markets may send your way.


---
Donald W. Pendergast, Jr.
Donald W. Pendergast is a financial markets consultant who offers specialized services to stock brokers and high net worth individuals who seek a better bottom line for their portfolios.
Title:
Writer, market consultant
Company:
Linear Trading Systems LLC
Jacksonville, FL 32217
Phone # for sales:
904-239-9564
E-mail address:
lineartradingsys@gmail.com

Traders' Resource Links

Linear Trading Systems LLC has not added any product or service information to TRADERS' RESOURCE.
---
Click here for more information about our publications!
Comments
Date:
 09/07/10
Rank:
 5
Comment:
PRINT THIS ARTICLE