Figure 1 shows a daily chart of Microsoft (MSFT). The middle panel shows the daily bar chart along with the 200-day simple moving average (SMA) representing the long-term trend, the 50-day SMA representing the intermediate-term trend, and the 20-day SMA representing the short-term trend. The upper panel shows the 20-day rate of change (ROC) indicator. This indicator represents the momentum of price. When this indicator is below its zero line, it represents increased selling momentum. The lower panel shows the daily volume bars along with a 200-day SMA. The 200-day SMA of volume represents the long-term average of volume.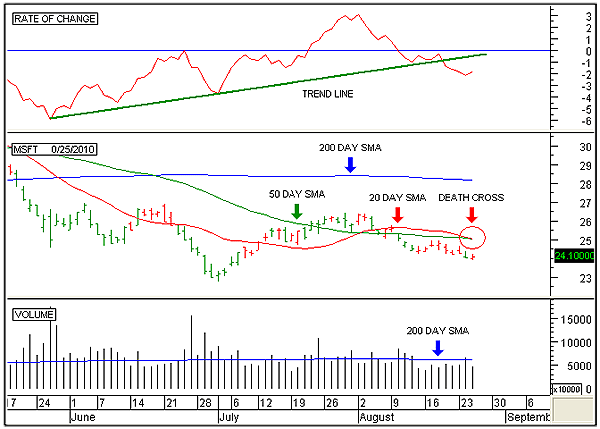 FIGURE 1: MSFT, DAILY. This chart shows the daily price bars in the middle panel, the rate of change indicator in the top panel, and volume in the bottom panel. There are also trendlines and moving averages. Note the death cross.
Graphic provided by: MetaStock.
From the middle panel you can see that price is below all three moving averages and that all three averages are pointing down. This indicates that all three time frames -- long term, intermediate term, and short term -- are in downtrends. In addition, the 20-day SMA is just now crossing below the 50-day SMA. This cross under is known as the "death cross." The death cross occurs when a short-term moving average crosses under a longer-term moving average. Why is it a death cross? Because it indicates that the longer-term moving average becomes a dynamic line of resistance, constantly moving lower, sealing the fate of the daily price bars and forcing them to move lower as well.


Looking at the top panel, we can see that the ROC has broken down below its zero line. This crossing indicates that price is now lower than it was 20 days ago, indicating that price is moving lower. As long as ROC continues to move down, the rate at which price is falling continues to increase. For example, on August 12, 2010, price was $1.02 lower than it was exactly 20 days ago. However on August 24, price was not just $1.02 lower than it was 20 days ago, it was $2.12 lower. In other words, between August 12 and 24, price was dropping at a faster rate. This is price acceleration in the downward direction. This occurs when price continues to drop at a faster and faster pace. Price deceleration occurs when that rate of descent starts to slow down. As long as price continues to accelerate down, price should continue to sell off. However, once price starts to decelerate, it is a signal that a temporary bottom is close at hand.


The bottom panel shows the daily volume bars. Volume remains below its 200-day SMA. Normally, in a downtrend, volume will start to increase. In a healthy downtrend, volume should increase above its 200-day SMA. The fact that volume has not yet moved above its moving average is an indication that the downtrend is still in its infancy.


In conclusion, Microsoft has just now entered into a downtrend. This downtrend has now started to accelerate down but volume has not yet started to increase, indicating that the downtrend is still in its infancy. This further suggests that the downtrend has a long way yet to go. Once volume starts to pick up, look for price to start decelerating in the downward direction and for volume to shrink back down below its 200-day simple moving average. This will signal that the downward trend is running into at least a temporary bottom.