This isn't a trading setup article per se, but more of a possible early warning piece for precious metals bulls. When one of the biggest names in mining stocks flashes a monthly sell system from a proven trading system, it might be a good time to take note of the big picture in this segment of the market.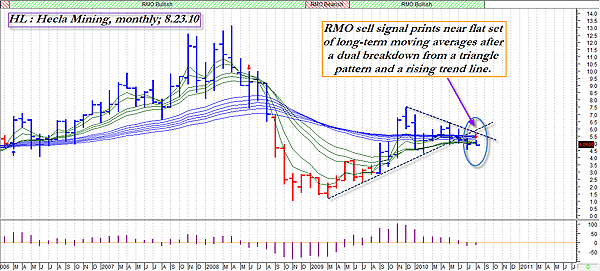 FIGURE 1: HL, MONTHLY. Sure, there are still six more trading days to go in August, but anytime an RMO swing sell signal flashes on the screen is a good time to pay attention. That such a signal occurs on a monthly chart after a noticeable pattern breakdown is even more interesting.
Graphic provided by: MetaStock.
Graphic provided by: Rahul Mohindar (RMO) tools from MetaStock 11.
The Rahul Mohindar trading system has just gone short on the monthly chart (Figure 1) for Hecla Mining (HL), right after the stock broke down from a well-defined triangle/rising trendline combo pattern. All this party needs is a monthly close below $4.52 (the July 2010 low) in order to really unleash a torrent of fresh selling. This monthly chart helps set the stage for the current price action on Hecla's daily chart, where the stock's short-term prospects aren't looking all that bullish, either.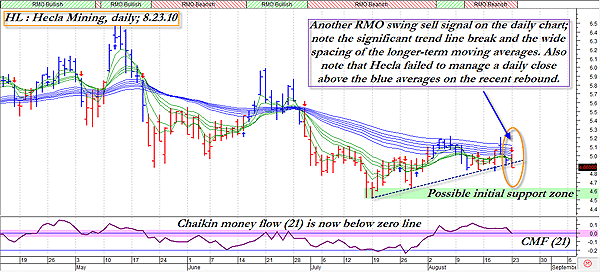 FIGURE 2: HL, DAILY. Falling money flow, a trendline breakdown, and an RMO swing sell signal occurring in unison is a strong indication that Hecla's next significant move may be down, possibly to the green shaded support zone.
Graphic provided by: MetaStock.
Graphic provided by: Rahul Mohindar tools from MetaStock 11.
Dropping down to the daily chart (Figure 2), we find that Hecla failed to even manage a daily close beyond the blue longer-term moving averages on the recent rebound and that the short-term Chaikin money flow (CMF)(21) has just dropped below its zero line for the first time in three weeks. As on the monthly chart, HL has also completed a very bearish trendline break. Note the wide spacing and general downward slope of the entire Guppy moving average complex, too; this daily RMO swing sell signal appears to be in the right place at the right time for an aggressive trend-follower to capitalize on.


There's another bearish twist to this trade setup in Hecla -- the gold futures market may be on the verge of a major trend reversal, as the buying enthusiasm occurring after July's selloff has been meager at best. With the gold bull market nearing its 10-year anniversary and "Buy gold NOW!" TV ads littering every avaialble 60-second slot on TV, now might be a good time for hard-core gold and silver bulls to take a step back from the nonstop bullish froth and consider the possibility that gold might be due for a larger correction than might be otherwise anticipated, especially just before a normally bullish seasonal buying cycle kicks in.

Gold and silver will keep on rising until they don't, and well, then they might just reverse direction so fast that the permabulls won't be able to cut their losses in a timely manner. Use caution if you're a gold or silver bull and begin relying on proven trading systems (willing to go long or short, as the case may be) rather than all of the "buy, hold & hope" verbiage that the bull-only metalheads want to occupy your thoughts with. Bear in mind that the deflation scenario that Robert Prechter envisioned back when his book Conquer The Crash was released in 2002 certainly looks to be more and more likely with each passing day, and if that's the case, you don't want to be left holding the bag (of gold and silver dust) if another 2008-style commodity rout is in the offing.


My own gut feeling says that this commodity bull run is about to take a major timeout, as the economic woes are far from over in much of the developed and developing world. The impossibly large global debt situation is much more amenable to a deflationary resolution than it is to an inflationary one. Use caution, and again, begin relying on an objective, quantifiable trading system and start learning how to deploy it in any kind of market, thus freeing yourself from the need to rely on newsletter writers and financial network pundits, once and for all.