Sometimes looking at long-term weekly charts of sectors is the best way to determine which stocks are most likely to lead the next bull market in equities. And if you are one of those who believes that there is always a bull market in stocks somewhere, then studying long-term (five year) charts can be one of the easiest ways to observe long-term trends and, hopefully, find reversals that can lead to optimal buying opportunities.


An excellent example of this has been hospitals. The health care group has been in an extended bull market since 1998, while stocks from a variety of other sectors (most notably, technology) suffered dramatically. Health care facilities were a part of this bull market, putting in an initial bottom early in 1999 and making a successful test of that bottom in early 2000. Since that time, the hospital group has appreciated some 150%. Individual hospital/health care facilities stocks such as Tenet Healthcare (THC) are up 300% since rallying from a spring 2000 bottom.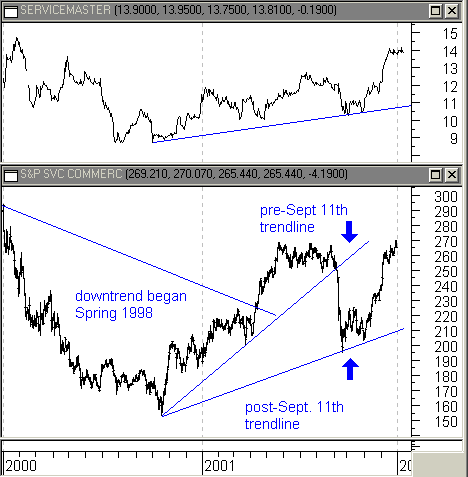 Servicemaster is part of the bullish business services industry that buoyed commercial services all of 2001.
Graphic provided by: MetaStock.
The current example of a nascent bull market may lie in the commercial services group. As the chart reveals, commercial services were in an extended bear market, coming off the highs of 1998. Commercial services appeared to put in a bottom in October 2000. In fact, the sector looked poised for a stunning rebound in 2001, being up nearly 69% in one year, when the September 11th terrorist attacks knocked the entire equities market off center. Interestingly, there is still a less steep uptrend line that connects the October 2000 lows with the significantly higher lows of September 2001. This, plus the rally in the commercial services group, from the trendline touch in September to test the highs of 2001 established during a summer range, suggests the uptrend in commercial services is still intact.


Of the various industries that comprise commercial services, the largest, communications services, had fewer top companies with attractive charts. Better looking charts, however, were found in other commercial services sector industries such as business services. This group includes companies that specialize in financial and corporate restructuring, as well as companies that manage everything from portable storage solutions to juvenile corrections. One particularly attractive company in this group is Servicemaster (SVM), which bottomed in September 2000 and made its latest 52-week high on December 17th. Other smaller business services companies worth keeping an eye on include FTI Consulting (FCN), Dun & Bradstreet (DNB), Cornell Companies (CRN) and Mobile Mini (MINI).


Some of the larger companies that fall into the business services category are similarly showing signs of strength. Accenture (ACN), one of the largest management consultant companies, just reported its "highest ever" quarterly revenues, according to The Economist. EBAY (EBAY) has also recently impressed many with its resilience in the face of the dot-com washout. However, there may be better pure growth prospects among the smaller business services companies. Here, mid-cap business services companies such as Gartner Group (IT) and NCO Group (NCO) may be examples of splitting the difference between size and solid growth prospects over the next several months.

It should be added that the commercial services sector has rallied tremendously from its upward trendline. A pullback to lower levels before resuming the advance would not be surprising. Look for upward trendlines to remain intact for evidence that the uptrends are still in place.