Bear market blues, summer doldrums, dog days of summer — call it what you will, but it's hard to ignore the compelling evidence that we may be getting close to a bullish breakout in the Russell 2000. We'll take a look at the daily chart first (Figure 1), followed by a very intriguing 30-minute chart of the September emini Russell 2000 futures contract.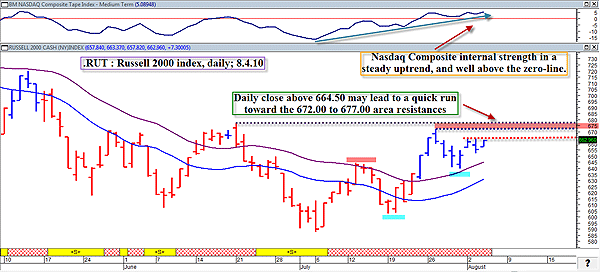 FIGURE 1: RUT, DAILY. Bullish trend and internal market strength (advances/declines, new highs/new lows, up volume/down volume, and so forth) characterizes this daily Russell 2000 index graph. A breakout above 664.50 gets the ball rolling.
Graphic provided by: MetaStock.
Graphic provided by: CS Scientific Expert Advisor from MetaStock.
Yes, the economy is still a shambles, the country is drowning in red ink and unfunded liabilities and the real unemployment rate may actually be higher than the 10% figure commonly touted by the politicos.

The stock market frequently turns and breaks higher, typically six to 12 months before unemployment rates begin to fall in earnest. Earnings have been coming in better than expected this past quarter, and the charts of all the major US stock indexes are in a prime position to launch to higher levels — perhaps within the next week or so.

Glancing at the daily chart of the R2K, I really can't find a bearish bone to pick on. The sequence of higher highs/higher lows is intact, prices are comfortably above the 20-period simple moving average combination (the top average uses the daily highs in its calculation, while the lower one uses the daily lows — makes a great trend confirmation indicator in many cases, like right now), and the NASDAQ Composite internal strength indicator (top part of chart) is also in a steady bullish attitude. This is really just another example of "forget your personal biases, just look at the chart." In this case, the chart's lookin' good, indeed.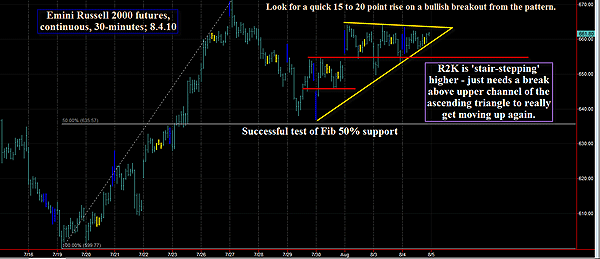 FIGURE 2: EMINI, 30-MINUTE. A closer look of the same index, this time using a 30-minute chart. A bullish consolidation pattern within a larger ascending triangle pattern is normally thought to be an early warning of a sizable move higher out of such combined patterns.
Graphic provided by: TradeStation.
Figure 2 is the 30-minute chart of the September 2010 emini Russell 2000 chart. After making a stupendous, nearly nonstop run from the 600.00 zone all the way up toward the 670 area in less than a week, the R2K needed to digest some of those gains, pulling back to the Fibonacci 50% support level before gradually stepping higher to its current location within an extremely bullish looking consolidation pattern. That pattern is giving every indication that it wants to morph into a continuation move higher, perhaps tacking on a quick 15 to 20 points (based on a measured move out of the well-defined consolidation) in relatively short order if the pattern plays out in a bullish mode.

The consolidation pattern is also buried within a larger ascending triangle pattern, yet another bullish omen for this key small-cap index.


Start looking for bullish breakouts in your favorite small-cap issues on your intraday scanning software if you see that top gold line give way in the next few sessions; you may find yourself riding a small-cap rocket-stock higher if it does. This is one of the best intraday/daily setups I've seen all year, so keep a close watch on it because it could make you happy — if you know how to play it correctly.