PRINT THIS ARTICLE
WEDGE FORMATIONS
---
SanDisk Bullish Wedge Beckons
08/03/10 08:20:38 AM
---
by Donald W. Pendergast, Jr.
---
A bullish wedge formation can sometimes provide a solid foundation for a long trade setup. How good is the current pattern in SanDisk's daily chart?
Security:
SNDK
Position:
Buy
When a stock with above-average earnings growth projections starts to manifest signs of steady accumulation near the terminal phase of an extremely bullish-looking wedge pattern, skilled traders will want to put in some extra analysis time to assess the validity of the trade setup. From the looks of the current daily graph for SanDisk (SNDK), it shouldn't take too long to come to the conclusion that the stock may be on the verge of a substantial breakout.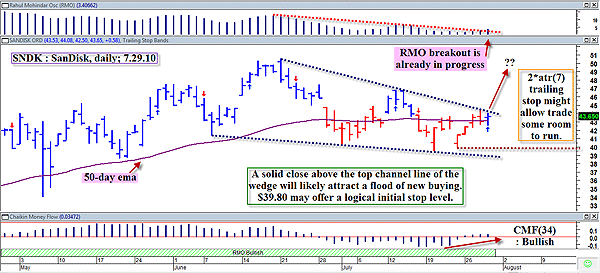 FIGURE 1: SNDK, DAILY. You don't always find textbook-quality bullish wedge patterns like this, but when you do, you can be sure that thousands of other skilled traders are plenty interested, too. Major bull moves have been known to erupt from wedge patterns just like this, in every time frame and stock/commodity.
Graphic provided by: MetaStock.
Graphic provided by: Rahul Mohindar indicators from MetaStock v.11.
Here's a technical/fundamental synopsis of this daily setup in SanDisk:

* The stock has exceptionally positive earnings growth projections for the next 12 months.
* The stock has greatly outperformed the Standard & Poor's 500, NASDAQ 100, and Russell 2000 indexes over the past three-, six-, and 12-month periods. Institutional money favors stocks like this, especially in the midst of a bear market in a major recession.
* The large, well-defined bullish wedge is a pattern that many traders will be watching, and given the favorable earnings growth and relative strength rankings of the stock, a daily close or two above the upper wedge channel line can only help draw even more buyers into the fray in SNDK.
* Money flow is positive, with the Chaikin money flow (CMF)(34) trending higher.
* Of great technical interest is the bullish breakout of the Rahul Mohindar oscillator (RMO) (Figure 1, top of the chart); this could be a major tipoff that the stock is getting ready to shift gears in anticipation of a thrust higher.
* Finally, SNDK is well above its upsloping 200-day exponential moving average (EMA) even as it has just managed to close above the important 50-day EMA.

Now all we need is a way to play this stock, so here's one idea.


With the RMO trading system, the normal way to enter a trade is with a buy-stop (sell-stop) one tick beyond the high (low) price of the signal bar. In this case, that would be a buy-stop at $44.09. If filled, consider an initial stop at $39.80 or so and then run something like a 2*atr(7) volatility trailing stop in the hope of capturing a major portion of the gains that may result from a substantial trending move.

It might also pay to be aware of the two significant resistance areas above the current price, at $46.80 and at $50.55. Pure trend-followers might choose to just let any bullish breakout run without taking partial profits, but those who are more conservative could also use either of those price levels as logical price targets. No matter how you choose to manage a long SNDK entry here, at least you know that you already have several powerful fundamental and technical factors firmly in your favor as you take the trade.


---
Donald W. Pendergast, Jr.
Donald W. Pendergast is a financial markets consultant who offers specialized services to stock brokers and high net worth individuals who seek a better bottom line for their portfolios.
Title:
Writer, market consultant
Company:
Linear Trading Systems LLC
Jacksonville, FL 32217
Phone # for sales:
904-239-9564
E-mail address:
lineartradingsys@gmail.com

Traders' Resource Links

Linear Trading Systems LLC has not added any product or service information to TRADERS' RESOURCE.
---
Click here for more information about our publications!
PRINT THIS ARTICLE