Coming out of the recent February 2010 cycle low, shares of US Gold Corp. (UXG) ran all the way from $2.02 up to $5.44 before commencing to correct. Currently, UXG is at $4.90 per share, and the stock has been flashing some interesting volume patterns that may offer some insight as to its next move. Here's a closer look.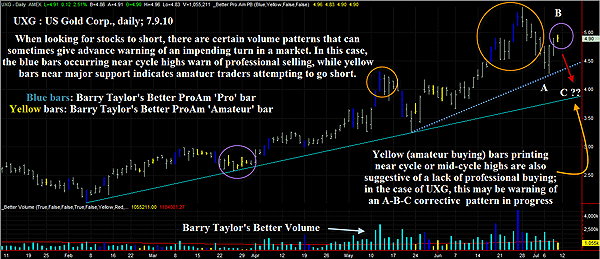 FIGURE 1: UXG, DAILY. Any tool that can help traders better home in on zones of substantial amounts of professional buying and selling would seem to be of immense value.
Graphic provided by: TradeStation.
Graphic provided by: Barry Taylor's Better ProAm, & Better Volume.
Figure 1 is a daily chart of UXG. I've added the Barry Taylor "Better Volume" indicator (bottom of chart) and the Barry Taylor "Better ProAm PB" indicators, by way of the Paintbar feature. Bars that are termed "Pro" bars are painted blue and bars that are deemed to be "Amateur" bars are painted yellow. Volume patterns are similarly colored in the indicator at the bottom of the chart.

Like any indicator, the Barry Taylors work best when placed in the proper technical context, including higher time-frame momentum, support/resistance and volatility. Here, we see that four wide-range Pro bars printed leading up to the major high at $5.44; this was a reliable indication that the smart money in this stock was beginning to sell their positions to weaker hands. The stock corrected fairly hard (not surprising after such a mammoth, four-and-a-half month rise) and has now retraced a portion of the decline from $5.44, printing a potentially bearish, narrow range yellow Amateur bar (purple circle on chart).

The appearance of this bar doesn't mean you should short UXG right now. However, it may be an early warning, one telling us that there isn't much demand available to drive this stock much higher from here. A series of blue bars peppered around a major support level would be a potentially bullish indicator, however. What we need to watch for is an additional rise followed by a sharp reversal bar lower, which could be a potential place to consider going short. Support exists in the $4.50 and then the $4.00 area (near both of the uptrend lines) and these could offer logical profit targets, should the stock decide it wants to trace out a pronounced A-B-C corrective pattern, one that already seems to be under way.

Again, when using the ProAm paint bars, look for clusters of similarly colored bars near potential cycle highs and lows and major support/resistance levels. These can often provide strong predictive ability since they show how vigorously the professional and amateur trader interests are deploying their funds into any given market. Even if you use a mechanical trading system, these same concepts can help you; perhaps you can trade more contracts/shares when you see the pros obviously in the accumulation stage (again, lots of blue bars near key support levels). Conversely, if you see plenty of yellow amateur bars printing at key cycle highs, you might decide to short extra contracts/shares when your mechanical system gives a sell signal soon thereafter.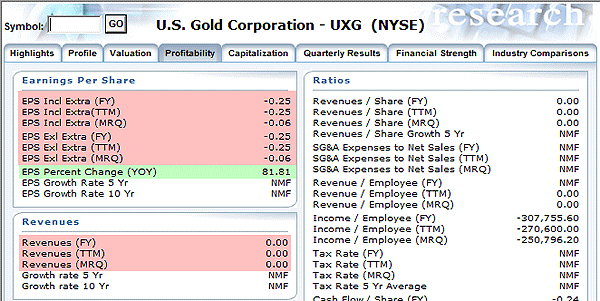 FIGURE 2: EPS. When you're looking to short stocks, always make sure the stock is already weak in the revenue, EPS, and earnings growth departments. Here, shares of US Gold Corp. show zero revenues, with typically abysmal EPS performances.
Graphic provided by: TradeStation.
Graphic provided by: TradeStation 8.7 Research.
Figure 2 shows a nice feature in TradeStation. If you click the Research icon in the Tools section of the shortcut bar, you can sort through tons of fundamental datafields for any given stock. In this case, I've taken special note of the lack of revenues in UXG shares, along with an equally dismal set of earnings per share (EPS) figures (shaded in pink). Stocks with poor EPS stats are often good shorting candidates (all else being equal), so I'll be watching UXG for a suitable short signal on the daily chart once the current market rally begins to stall (and it will; we just don't know when), knowing that the stock is an earnings dud, one that likely rose so dramatically simply because it was riding on the coattails of gold mining stocks that actually do earn a hefty profit, stocks like Rangold (GOLD), Newmont Mining (NEM), and Agnico-Eagle (AEM).


Remember, this is not a call to short UXG at current price levels, but rather a lesson on how to combine volume patterns with EPS/earnings growth/revenue stats to identify potentially profitable short sell candidates in the stock market.