It didn't take very long for the BP oil catastrophe to spill over, affecting not only the share prices of BP but for virtually all of those companies involved in oil exploration -- including shares of Anadarko Petroleum Corp. (APC), one of the key energy-related components in the Standard & Poor's 500. One look at the weekly chart (Figure 1) immediately lets you know that this is a stock under great bearish pressure.



FIGURE 1: APC, WEEKLY. If stocks could be classified as 1960s-style jet-set swingers, then shares of APC would certainly make the cut. APC has slightly breached one of the Fibonacci swing termination projection targets of $39.97. We may see the stock soon challenge the major March 2009 low at $30.88.
Graphic provided by: FreeStockCharts.com.
Cut in half in only nine weeks, shares of APC at this point look more like the proverbial "falling knife" than that of a stock preparing to make a graceful landing. Charts like these sometimes remind me of the wiseacre who reputedly said, in the wake of the major stock market crash of 1973-74, when the S&P 500 lost 48% of its value in about 19 months: "I'm putting my money into the S&P these days."

His surprised friends thought he'd lost his mind until he clarified his reasoning: "Sealy and Posturepedic, that is. I'm stuffing the money into my mattress. No more stock market for me."

Whether or not if this is a true story, it does a good job of depicting how most burned investors feel after suffering major (and usually unexpected) losses in the market. Unfortunately for "Mr. Sealy & Posturepedic," he probably also missed out on the big relief rally that commenced in August 1974, one that lasted well into early 1975. He wouldn't have made all of his losses back in one shot, but it could have helped ease his pain (as well as making his bed a bit more comfortable to sleep on).

There are plenty of people with similar outlooks on the market right about now, but if they'd just step back and get a bigger picture, they might observe that there are some major support areas residing below the current prices of the major indexes and that there may be at least a temporary relief rally due sometime in the next few weeks.

Note the gigantic swings that this stock has traced out over the last three and a half years, going from $38.40 to $81.36 (point A), then plunging down to $24.57 (point B) before ascending to $75.07 (point C). Using some very simple swing price projection formulas might be able to help us anticipate a general price zone to see APC finally exhaust the selling pressure, find support, and then stage a $10 to $25 bounce higher -- hopefully from point D.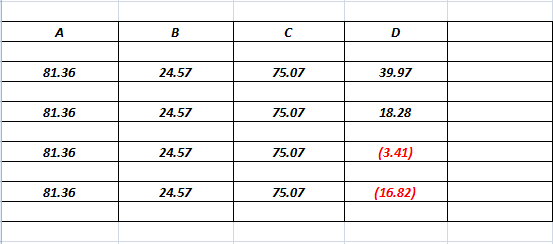 FIGURE 2: MICROSOFT EXCEL. Columns A, B, and C contain the swing point values of the similarly labeled swings on APC's weekly chart. Column D is the Excel formula output, projecting possible termination areas for major swing CD on the chart.
Graphic provided by: Microsoft Excel 2007.
Figure 2 is a simple Excel sheet, one that you can make on your own; it will automatically calculate the anticipated swing termination points using four different measures (feel free to use your own Fibonacci formula multipliers as needed) of trend strength. To use this formula, first make sure that the stock you wish to calculate swing targets for has already completed three swing moves of substantial intensity that are also relatively straight (minor retracements against the primary swing trend are perfectly acceptable, as are those in the above example of APC). Label the three completed swings as A, B, and C. Ideally, the stock will have already made a confirmed trend reversal after peaking at point C and has already made a significant move toward swing termination point D, whose exact price is as yet to be determined. Face it — you won't know that a swing high or low is in until price moves sufficiently far enough in a different direction to confirm the existence of a valid swing in a new direction. However, with APC having already moved more than $35 away from point C, our job is relatively easy.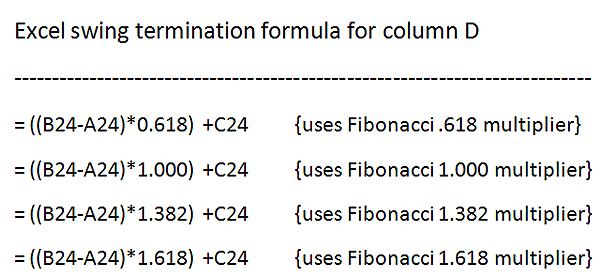 FIGURE 3: MICROSOFT EXCEL FORMULA. Here is a sample formula to plug into column D. Using other Fibonacci multipliers can also be a useful pastime; the ratios of 0.50, 0.786, 1.272, 2.00, and 2.618 will sometimes produce output that is especially accurate, depending on the market in question.
Graphic provided by: Microsoft Excel 2007.
In the Excel sheet are plotted the previously mentioned swing termination points (in rows A, B, and C, respectively), and in column D we see the calculated swing termination points for swing CD according to four different measures of trend strength, ranging from mild to wild. The first row's swing projection formula uses a Fibonacci 0.618 multiplier, and arrives at a possible termination point of $39.97 (Figure 3). APC is already a couple of dollars below that price, but remember, this is a general formula and is not intended to call exact turns in any particular market.

In the next row, we use a Fibonacci 1.00 multiplier to arrive at a swing termination price of $18.28, nearly $20 below today's closing price of $37.77. Finally, the next two rows use Fibonacci multipliers of 1.382 and 1.618, producing swing termination prices in the subzero dollars per share range. I seriously doubt APC shares will go to zero (or anywhere close to that), but since the $39.97 swing target is already a done deal, we might very well expect to see APC fall further, most likely to the next significant chart support level at $30.88, which is the March 6, 2009, swing low for the stock. If $30.88 is breached, the next key support level is the October 2008 panic low at $24.57.

APC has heavy downward momentum right now, just as it did going into that October 2008 hole in the ground. However, look at the recovery the stock staged coming out of that sub-$25 abyss. So what we need to do now is monitor APC for the telltale signs of panic selling that usually precedes a major swing low. Here are a few tipoffs to help you identify when this stock might be an excellent candidate for superinflated put sales that can, at times, be the easiest money to be made in the entire stock market:

* Look for super wide-range weekly (daily) price bars that have ultra-high volume.
* Look for the Keltner band complex (set at 4.00 and 7.00 standard deviations away from a 40-period simple moving average) to act as potential support on such a selloff.
*Look for a wide-range daily (weekly) reversal bar to print, one where the close is in the upper 70% of the daily (weekly) range. This bar may have less volume associated with it than some of the previous panic sell bars.
* Look for the detrend oscillator to reach extremes that haven't been seen in several years as all of the above plays out.
* Finally, check to see that all of this is occurring at or near any of the major support areas described previously.

In addition, you'll also want to see these same kinds of patterns occurring in other related industry groups in the energy sector (if not the entire stock market).

Once all of that lines up, you'll want to start your put selling shopping list!

Look to sell incredibly overpriced short-term puts with a strike price low enough to allow some back-and-fill price action in the stock, making sure that the put is protected by a strong technical support level on the chart. For example, if APC goes into panic sell mode soon and finally exhausts and reverses near $28.00, you might want to investigate selling a put with one to two months of time value at a strike price below that key support level of $24.57. Perhaps selling a near-term $20.00 or $22.50 put would bring in a healthy premium without a lot of risk at that point. APC options have excellent liquidity and a reasonably good bid-ask spread, making them excellent trading vehicles for potential panic sell-to-reversal rally setups like this one may soon become.



The big idea with these panic put sales is to hold the option long enough to see it wither away to next to nothing as the stock (hopefully) reverses sharply higher out of the panic low crater it finds itself in. I did this with great success during the November 2008 into January 2009 period on several big-cap stocks, and it never failed to bring a smile to my face watching these highly predictable, short-term option setups turn profitable in relatively short periods of time.

So while the environmental crews slowly clean up the mess in the wetland and beach areas of the Gulf of Mexico, you also stand to do a little cleaning up of your own, should the scenario described play out in APC shares.