PRINT THIS ARTICLE
ELLIOTT WAVE
---
Is It Time To Buy Apple Again?
05/24/10 02:07:15 PM
---
by Koos van der Merwe
---
Those faithfuls who love Apple never ever sold.
Security:
AAPL
Position:
Buy
I don't have to tell you about Apple (AAPL); you already know that the iPad is the latest gadget to own, and how the ingenuity and imagination of Steve Jobs took a company whose share price was $7.50 in 2000 and sent it skyrocketing to a high of $273.05 by April 2010. Had I suggested to anyone in 2000 that Apple was worth a buy, they would have laughed at me. And to be honest, I did buy 1,000 shares at $7.50, and when I sold them for 100% profit at $15, I patted myself on the back. Like everyone else, except those few clever enough to hold, I believed Apple was on the way out, and when I listen to the pundits today declaring that the company is challenging mighty Microsoft in capitalization, I kick myself.

But caution still prevails, and I console myself that Palm, once at the top of the heap, has been purchased by Hewlett Packard. I ask myself, "Is it because they never had a Steve Jobs?" The answer is a resounding yes. Steve Jobs built Pixar from nothing and sold it for a good profit with the acquisition by Disney, as many of us forget.

Currently, the rumor has it that AAPL is on its way to $400 per share. Feasible? With Steve Jobs I am starting to believe that anything is possible. With the iPad now on the market, and an "ultra" smartphone being left around bars for someone to pick up, I would not be surprised if Jobs has learned how to create a black hole and transport people from place to place in the blink of an eye. With him, anything appears possible. So what do the charts tell us?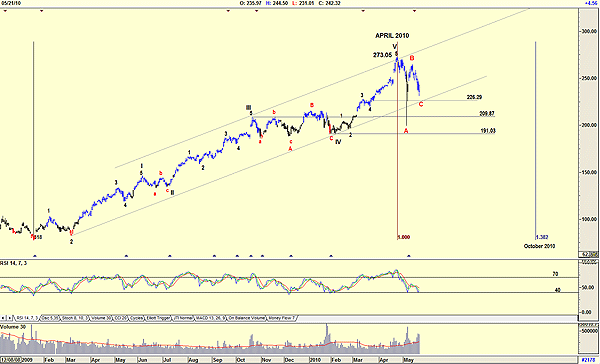 FIGURE 1: APPLE, DAILY
Graphic provided by: AdvancedGET.
Figure 1 is a daily chart of AAPL, confirming that an ABC correction is, if not complete, almost complete. My concern, however, is time.

Elliott wave theory tells us that an ABC correction after a major five-way rise should be 38.2% of the rise to the top of Wave 5. Of course, a margin of error should be allowed, but nevertheless, having the share complete a Wave C correction now in May when the 38.2% correction date is October 2010 does suggest caution. Further, Wave C has not bottomed in the fourth wave of lesser degree, somewhere between 191 and 209, nor has it tested the 226.29, depending on your interpretation of the fourth wave of lesser degree.
The relative strength index (RSI) is suggesting a buy based on the fact that previous buy signals were given around the 40 level and not the standard 32 level. Finally, do note that the share price has not reached or broken the long-term resistance level, which I would prefer to see happen in a major correction.

To conclude, I am inclined to believe that AAPL shares are completing a Wave C of a major Wave A. That any rise could now be a major Wave B with a major Wave C down to follow, bottoming sometime in October 2010. Then again, knowing Steve Jobs, I could be very, very wrong, so ... buy Apple at today's price, but do keep a close watch on your stop-loss.




---
Koos van der Merwe
Has been a technical analyst since 1969, and has worked as a futures and options trader with First Financial Futures in Johannesburg, South Africa.
| | |
| --- | --- |
| Address: | 3256 West 24th Ave |
| | Vancouver, BC |
| Phone # for sales: | 6042634214 |
| E-mail address: | petroosp@gmail.com |
---
Click here for more information about our publications!
Comments
Date:
 05/25/10
Rank:
 1
Comment:
PRINT THIS ARTICLE