PRINT THIS ARTICLE
TRADING SYSTEMS
---
Coventry Health's Short Setup?
05/14/10 11:40:22 AM
---
by Donald W. Pendergast, Jr.
---
The Raff-MarketSpace Stock System, one of the expert advisors contained in MetaStock 11, has issued an interesting short signal in Coventry Health.
Security:
CVH
Position:
Sell
With the Standard & Poor's 500 having retraced about two-thirds of the recent plunge from April 2010's highs, now may be the time to ferret out attractive short setups on stocks that are weaker than the broad market at large. See Figure 1.



FIGURE 1: CVH. Of all the stocks issuing recent Raff Market Space Stock System sell signals, CVH is significantly weaker than the S&P 500.
Graphic provided by: MetaStock.
Graphic provided by: MetaStock Explorer.
One of the weaker S&P 500 stocks firing Gil Raff's Market Space Stock System sell signals is Coventry Health (CVH), and the signal is very interesting on several fronts:

* The stock's relative strength index (RSI)(14) is still mired in the 40s, indicating either a trading range or the onset of a stronger downthrust yet to come.

* The stock has had only a mild retracement, unlike the broad market.

* Long-term money flow (not shown) is also well below the zero-line, warning that this stock may get weaker before it gets stronger.

Last but not least is the recent Market Space sell signal (blue oval on Figure 2); given the outstanding visual track record of this particular MetaStock expert advisor, this is a signal that should be given due consideration. In fact, using a simple eight-bar price channel as a trailing stop, this system has netted more than four points during the prior three trades — the October 2009 to January 2010 long trade never was stopped out on a daily close, resulting in a gain of about $4.50 per share. The next two trades resulted in a net minor loss of about $0.30 per share.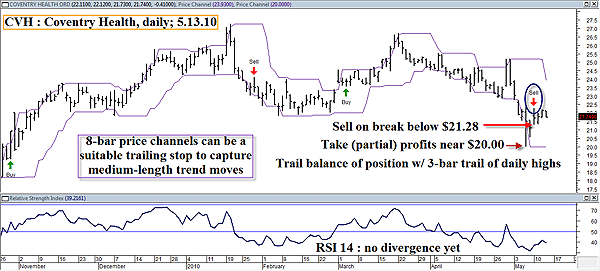 FIGURE 2: CVH: DAILY. If the broad market cooperates and moves lower over the next week or so, going short CVH near $21.28 looks like a very rational way to cash in on further market weakness.
Graphic provided by: MetaStock.
As far as engaging CVH for a possible short setup goes, here's one way to go:

- Place a sell-stop order to go short on a break of $21.28, the trigger bar's low.
- If filled, immediately place a buy-stop order at $22.30 and then institute a through-bar trailing stop of the daily highs for the duration of the trade.
- Should the trade cooperate and the $20.00 is seen again, consider closing half your position (if not all of it; remember, the market is prone to violent short squeezes from time to time) and dropping your trailing stop to a two-bar variety.

Very simple, sure, but if the broad market begins to turn lower here as anticipated (remember, that nasty low of last Thursday still needs some sort of a test before this market can move significantly higher again), then CVH should also be in a prime position to move lower in sympathy. Try not to risk more than 1% to 1-1/2% of your account's value on this particular trade; that way, no matter what happens, you can still come back to the market to play another day.


---
Donald W. Pendergast, Jr.
Donald W. Pendergast is a financial markets consultant who offers specialized services to stock brokers and high net worth individuals who seek a better bottom line for their portfolios.
Title:
Writer, market consultant
Company:
Linear Trading Systems LLC
Jacksonville, FL 32217
Phone # for sales:
904-239-9564
E-mail address:
lineartradingsys@gmail.com

Traders' Resource Links

Linear Trading Systems LLC has not added any product or service information to TRADERS' RESOURCE.
---
Click here for more information about our publications!
PRINT THIS ARTICLE