PRINT THIS ARTICLE
FIBONACCI
---
A Fibonacci Fan Warning
04/20/10 08:45:16 AM
---
by James Kupfer
---
Fibonacci fans can be powerful tools to identify potential resistance points, and one looms on the DJ30.
Security:
DJ30
Position:
Sell
On March 30, I wrote in my piece "Resistance Levels In Trending Markets" that the Dow Jones 30 was trading within a key group of resistance levels forecast using Fibonacci lines. This grouping of prices was from approximately Dow Jones 10,900 to 11,000.


This is not the only significant price level the broad market has hit predicted by a Fibonacci method. The Fibonacci fan is a commonly used tool for attempting to identify support and resistance levels. Shown in Figure 1 is a Fibonacci fan drawn between the all-time market high above 14,000 and the 2009 market low at 6,500.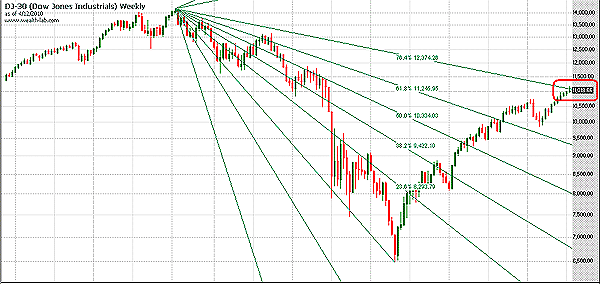 FIGURE 1: DJ 30, WEEKLY. And here's a Fibonacci fan.
Graphic provided by: Wealth-Lab.
You can see that the Dow Jones 30 broke through all the resistance zones identified by the fan method. However, it did at least have short-term price breaks at the 38.2% and 61.8% levels. Now, the DJ 30 has run into the less-commonly utilized 76.4% level. Note that the market went slightly above the line but closed below it, which so far is a price failure.


Normally, this fan level might not hold much predictive weight. However, given that it coincides with a previous warning provided by the Fibonacci retracement levels, the resistance zone tends to be stronger. In all likelihood, this bull move of the previous year is just a bear market bounce. If so, then the convergence of these Fibonacci resistance levels would provide a logical point for the market to turn back down into the next leg of the bear.


---
James Kupfer
Mr. Kupfer is a market professional and amateur stock market commentator. Disclosure: It is likely that Mr. Kupfer has or will enter a position in any security he writes about.
---
Click here for more information about our publications!
Comments
PRINT THIS ARTICLE