Currencies are generally thought to be among the most trendworthy of all financial instruments, and, for the most part, they are. But even a strongly trending currency like the Australian dollar can end up in a sideways trading range, one that lasts for months on end. Here's a look at the aussie's daily continuous contract chart and the fresh breakout move that may help power this currency up to the top end of its six-month trading range.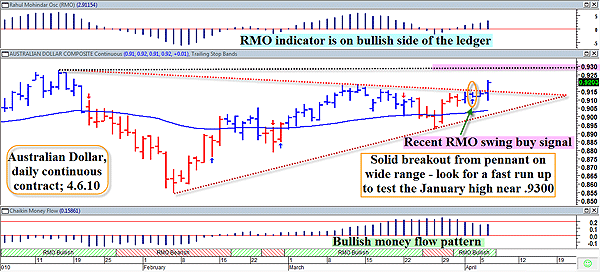 FIGURE 1: AUD, DAILY. Four of the six RMO buy/sell signals (red and blue arrows) displayed on this daily aussie dollar chart had significant next-day follow through; for intraday traders, this could be a powerful trade bias confirmation tool. Using one proven system's output to help trade another can be a great money-making strategy.
Graphic provided by: MetaStock.
Graphic provided by: Rahul Mohindar (RMO) tools from MetaStock v.11.
For those of you who own or lease MetaStock, the Rahul Mohindar oscillator (RMO) swing trading signals should already be a familiar sight on your computer screen by now, given how powerful they can be (Figure 1). Not only do the signals lead to major trending moves every so often, but they can even be exploited by shorter-term traders who simply want to align their intraday trades (using 15- to 60-minute charts) to latch on to the strong momentum (even if only for a few daily bars) that is normally seen after an RMO swing buy/sell signal is generated. We may have a situation just like that here on the aussie's daily chart; note that there was a successful RMO swing buy signal issued three trading sessions ago, one that was validated by Tuesday's wide range breakout bar, one that finally cleared a substantial pennant formation that's been in the works since mid-January 2010. Right now, the aussie looks to be on track for a quick runup toward the January 2010 high near 0.9300 (see dotted overhead resistance line on chart). If that price level can be taken out with sufficient force, then the next place where a major resistance battle may be fought is the November 2009 swing high near 0.9400. Meanwhile, money flow (Chaikin money flow [CMF][34]) appears to be in synch with this new break higher, as does the RMO momentum indicator at the top of the chart. While no one knows how far the aussie will run the daily chart on this new break, for those who trade this currency on an intraday basis, this RMO-propelled breakout is like an unexpected gift from above.


The reason why this setup can be viewed as a gift is simple: Most RMO signals have follow-through, with some turning into monster moves and others carrying a modest distance before calling it quits. However, if you're trading the AUD/USD forex pair on a 30-minute time frame, then the existence of such a powerful bullish daily move should help give you added confidence when trading your 30-minute chart setups from the long side. And since you already know that the 0.9300 and 0.9400 areas are likely to be potential resistance zones, you have convenient places at which to set potential profit targets and/or initiate intraday short sales near such levels. Of course, it would be helpful if you alrady have a proven system for trading intraday forex moves, you might even consider getting a bit more aggressive on the long side, at least until you see prices rising close to the 0.9300 and/or 0.9400 area.


As far as the positioning of the big money interests in this market goes (per recent COT data), the large speculators (trend-followers and hedge funds) are still betting on more upside, and this new breakout should start triggering any number of mechanical trend-following systems into new long positions. In addition, the US dollar is starting to look a bit vulnerable here, vulnerable to a minor short-term pullback, and not a major trend reversal. Such a temporary pullback in the greenback might be just the extra boost that the aussie needs to crack 0.9300 and then make a run toward 0.9400. This should be an interesting currency move to trade, with modest amounts of risk capital.