Today's bullish moves in gold, silver, the euro, and some other major US dollar forex pairs really put the hurt on the US dollar, even as it also led to a nice bullish breakout in the precious metals mining stocks. In this case, one thing (a US dollar reversal/correction) may indeed lead to many bullish moves in all of the currencies, commodities, and natural resource-related stocks in the days and weeks to come. For now, let's look at the list of the stock heavies in the mining camp that all made nice moves higher. See Figure 1.



FIGURE 1: PRECIOUS METALS. When 10 big-name stocks from the same industry group flash simultaneous buy signals, savvy traders will want to investigate further.
Graphic provided by: MetaStock.
Graphic provided by: MetaStock Explorer.
All of the usual precious metals mining suspects arrived at this Rahul Mohindar oscillator (RMO) swing buy party at the same time — names like Barrick Gold (ABX), Newmont Mining (NEM), RoyalGold (RGLD), and Harmony Mining (HMY), among others. In addition, the major gold miner exchange traded fund (ETF) (GDX) also confirms the industry-wide move to higher stock prices, plotting its own daily wide-range RMO swing buy signal today.

Next, we take a closer look at one of the most widely followed gold miners of all, Denver-based Newmont Mining (NEM). See Figure 2.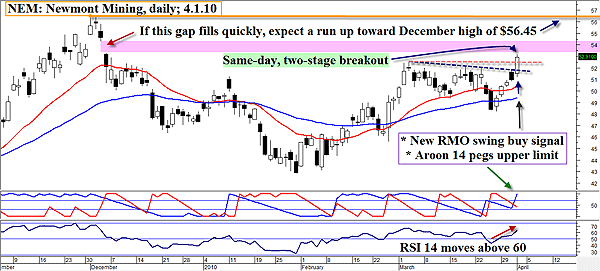 FIGURE 2: NEM, DAILY. With today's two-stage breakout already on the books, NEM bulls now anticipate the closing of December's open gap (pink zone on chart), followed by a possible run toward $56.45 or better.
Graphic provided by: MetaStock.
Newmont's daily chart dynamics certainly looks as if it is providing the new RMO buy signal with every opportunity to show its stuff; the same-day, two-stage price breakout on a wide range is a prime example of a stock that appears to have one particular direction on its mind at the moment, that being "up." Confirming the strength of the break higher is the Aroon (14) trend intensity indicator (now at peak strength) and the relative strength index's (RSI)(14) fresh move above 60; what Newmont bulls need to happen now is for December's open gap (pink shaded area on the chart) to be filled fairly soon, thus clearing the way for a push up toward December's high at $56.45 (gold horizontal line).



FIGURE 3: NEM COVERED-CALL PLAY. The May 2010 NEM $52.5 covered call play will net an annualized return of nearly 32% if the stock is called away at May option expiration, a mere 49 days away.
Graphic provided by: Thinkorswim.
To play NEM here, why not consider setting up a near-term covered call like this (Figure 3):

Buy 100 (200, 300, 400, etc.) shares of NEM
Sell 1 May 52.5 call option for every 100 shares purchased
-----------------------------------------------------------
Net debit of $50.30 or less

This trade, if the stock is called at May expiration, will yield an annualized return of nearly 32%, which is attractive for a 49-day commitment of time and trading capital. For risk control purposes, simply watch for a daily close below the 50-day exponential moving average (EMA) (blue line on chart) before closing out the trade for a modest loss. A covered call trade is a nice play sometimes, simply because it is such a stress-free way to play the stock market; you're relieved of picking the perfect trade entry point, for one thing, and then you're also allowed plenty of leeway for the stock to move around before it decides to cooperate or collapse on you.

With NEM looking as if it's going to move higher here, a simple, low-risk covered call play might be just the ticket that leads to a nice near-term financial gain for the patient traders among us.