PRINT THIS ARTICLE
ACCUM./DIST. CHAIKIN
---
Euro At Make Or Break Point
03/16/10 09:13:45 AM
---
by Donald W. Pendergast, Jr.
---
The euro's three-month-long decline has been put on hold for the time being, but is the recent runup from the lows confirmation of a trend reversal, or will strong resistance force a retest of the March 2010 low?
Security:
EUR, FXE
Position:
N/A
"Calling" a trend reversal isn't something that too many traders and investors are very skilled at; in fact, most long-term market pros will flat-out tell you that trying to call a top or a bottom in a given market is a fool's game — after all, as the old trader's saw goes,

"Top- and bottom-pickers become cotton pickers."

Having learned that market lesson the hard way on several occasions since 1979, I'd have to agree that trying to call exact turning points in real time is an exercise in futilty and frustration. That said, however, it's generally much easier to confirm a major trend reversal after the fact and then, armed with such a confidence-boosting knowledge, jump aggressively on whatever new trading opportunities such a confirmed reversal affords us.

Let's glance at the daily chart of the EuroUSD forex pair, a tradable that is likely going to be choosing a direction within the next few weeks, if not sooner, to see just how close it may be to having a major trend reversal confirmation. See Figure 1.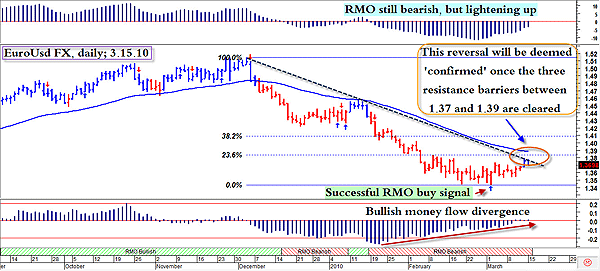 FIGURE 1: EUR/USD. The EurUSD forex pair appears to be in the formative stages of a trend reversal, one that will be confirmed once all three of the key resistance areas (see gold oval on chart) are cleared on a daily close. Until that occurs, chances remain better than even that a double-bottom pattern may manifest first.
Graphic provided by: MetaStock.
Graphic provided by: Rahul Mohindar (RMO) tools from MetaStock v.11.
The EurUSD forex pair had a steady but gradual decline from early December 2009 to early March 2010, when a tentative low at $1.34 was made. A rounded bottom pattern has emerged as price slowly began to reclaim some lost ground; in addition, a bullish money flow divergence with price (based on the Chaikin money flow [CMF][34])has also been in the works for nearly eight weeks now, further strengthening the case for a bullish reversal. An RMO (Rahul Mohindar) swing buy signal (blue up arrow) was triggered on March 2, 2010, which was one of the first hints that a reversal might be underway. More recently, the price bars have turned blue (two sessions ago), indicating increasing upward momentum for this market. No major reversal goes unchallenged, however, and the minor pullback from the major downtrend line (blue dashed line) is the first major resistance barrier that the EurUSD pair will need to overcome.

Just beyond that lies the first Fibonacci resistance level, the 23.4% retracement of the December to March selloff, followed by the 50-day exponential moving average (the gold oval highlights all three resistance areas). If we see a strong, wide range close above any (or all three) of these resistance points, expect to see continued strong follow-through for this key forex currency pair, probably at least up to the next Fibonacci level (the 38.2%) near $1.41.


As far as trading the EurUSD here goes, one idea would be to wait for a solid, wide-range break above any of the aforementioned resistances and then actively trading from the long side on any pullbacks to 30- or 60-minute intraday support for as long as the move keeps cranking higher. Conversely, if the pair reverses lower (looking to make a double-bottom pattern on the daily chart), simply short the pair on similar 30- to 60-minute pullbacks to intraday resistance points (floor trader pivots, Fibonacci confluences, major trendlines, and so on). This particular forex pair should make some nice moves (in either direction) in the next week or two, so make sure you get your gameplan worked out in advance so you can adequately take advantage of whatever might come your way.


---
Donald W. Pendergast, Jr.
Donald W. Pendergast is a financial markets consultant who offers specialized services to stock brokers and high net worth individuals who seek a better bottom line for their portfolios.
Title:
Writer, market consultant
Company:
Linear Trading Systems LLC
Jacksonville, FL 32217
Phone # for sales:
904-239-9564
E-mail address:
lineartradingsys@gmail.com

Traders' Resource Links

Linear Trading Systems LLC has not added any product or service information to TRADERS' RESOURCE.
---
Click here for more information about our publications!
Comments
Date:
 03/17/10
Rank:
 5
Comment:
PRINT THIS ARTICLE