PRINT THIS ARTICLE
TRADING SYSTEMS
---
LFUS As A Movie-Star Trade
03/09/10 08:50:09 AM
---
by Donald W. Pendergast, Jr.
---
Strong stocks tend to stay strong; using a proven timing system can help minimize the risk of latching onto a stock that has already skyrocketed over the past year. LFUS is such an example.
Security:
LFUS
Position:
Buy
Littlefuse (LFUS) has been grinding higher for the last year and may be poised to make a run at a new post-crash high in the wake of a new RMO swing buy signal. Here's a quick look at this setup's essential features.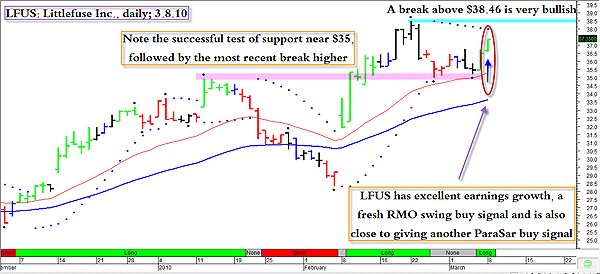 FIGURE 1: LFUS, DAILY. This chart might not be as exciting as having a movie star pull up to your door, but for active, aggressive traders, it should prove more than adequate. Note that LFUS has exceptional earning growth projections through 2010 and into 2011.
Graphic provided by: MetaStock.
LFUS has a lot going for it right now:

* Exceptional earnings growth estimates for the next 12 months
* A new Rahul Mohindar oscillator (RMO) swing buy signal, one coming right after a successful test of the $35 price support level (pin shaded area on Figure 1)
* Increasing momentum, shown by the widening spread between the 21- and 50 day exponential moving averages (EMAs)
* The stock is also getting close to generating a ParaSar buy signal, which would probably draw even more buying pressure to bear on this stock.

Overall, it's a very bullish setup, especially given the continued strength in both the Russell 2000 and Standard & Poor's 500 indexes.



Playing LFUS could take any number of pathways:

* Intraday players wishing to go long might look for pullbacks to support levels on the 15- to 30-minute time frames.

* Daily traders might want to put half a buy on at the next session's open, hoping to add the second half on an intraday pullback. Trailing the entire shebang with a two- to three-period trailing stop of the daily lows could be one way to manage the trade. Taking half profits near $38.46 (the last swing high) might also be a very good idea, too, should this stock start to run again.

* You could also investigate the possibility of creating a covered call trade for LFUS; personally, I would wait for the stock to clear that last swing high before setting up such a stock/option combo, as it's always best to put on a covered call when the momentum really starts to go on a tear.



Life is full of surprises, and it pays to be prepared for whatever unique opportunities that may come along. Remember that as you trade the markets, every so often a movie star trade setup comes along, one that you'll want to deploy aggressively in your own trading battles. Strong earnings stocks like LFUS showing up on your trading software's screen, and with fresh buy signals to boot, are nearly as wonderful as having a movie star show up at your base of operation, ready for duty.


---
Donald W. Pendergast, Jr.
Donald W. Pendergast is a financial markets consultant who offers specialized services to stock brokers and high net worth individuals who seek a better bottom line for their portfolios.
Title:
Writer, market consultant
Company:
Linear Trading Systems LLC
Jacksonville, FL 32217
Phone # for sales:
904-239-9564
E-mail address:
lineartradingsys@gmail.com

Traders' Resource Links

Linear Trading Systems LLC has not added any product or service information to TRADERS' RESOURCE.
---
Click here for more information about our publications!
PRINT THIS ARTICLE