PRINT THIS ARTICLE
MOVING AVERAGES
---
A Simple Trend Filter For Trend-Followers
03/03/10 02:59:35 PM
---
by Donald W. Pendergast, Jr.
---
Some moving averages do a better job than others when it comes to determining various degrees of trend. Here's a look at how to combine two simple technical tactics in order to stay on the right side of a given market.
Security:
EUR/USD, various
Position:
N/A
The euro/US dollar (EUR/USD) currency pair has been a relatively trendworthy market over the last 11 years, making it a good candidate for various trend-following methodologies. Here's a strictly visual way to determine if this particular forex pair is offering a good trend-following opportunity. Let's take a look now.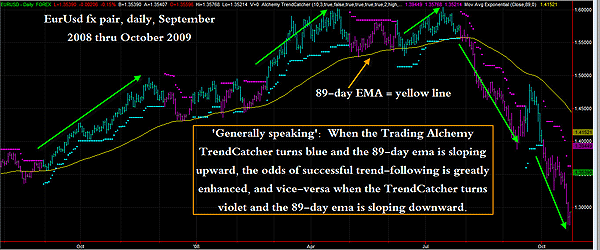 FIGURE 1: EUR/USD FX PAIR, DAILY. Keep It Simple, Stanley! The combination of Trading Alchemy's TrendCatcher and the 89-period EMA does a pretty good job of keeping aspiring trend-followers on the right side of most freely traded markets.
Graphic provided by: TradeStation.
Graphic provided by: Trading Alchemy.com TrendCatcher.
Figure 1 is the daily chart of the EUR/USD forex pair from September 2008 through October 2009, plotted in TradeStation. I've applied only two indicators:

1. The 89-day exponential moving average (EMA)(yellow line).
2. The Trading Alchemy.com TrendCatcher, an average true range (ATR)-based indicator that changes color from violet to aqua blue (and vice versa) when a significant trend reversal is detected.

While the EMA comes standard in TradeStation, the TrendCatcher must be purchased seperately from Trading Alchemy.com. Working together, these two dissimilar indicators do an outstanding job of determining potentially profitable trend-following phases in most freely traded markets, as this 13-month depiction of the daily action in the EUR/USD plainly illustrates.

Note that even though no method of identifying trend can prevent a trader from being whipsawed during choppy, consolidating market phases, this TrendCatcher/89 EMA combo still does very well, enabling a trader to maximize trending gains that are likely to far exceed the losses that will be incurred during nontrending periods.


Your job now is to get even more specific, adding specific entry and exit parameters to this basic trading template, back- and forward-testing them nonstop until your computer's CPU starts to smoke like a Georgia barbecue pit on the Fourth of July. Only in that way can you actually trade a template like this with the rock-solid confidence that you'lll need to take every trade that passes muster.

Who knows? Maybe you'll make more than enough trading profits to fly to Hotlanta or Macon and buy a barbecue joint of your own.


---
Donald W. Pendergast, Jr.
Donald W. Pendergast is a financial markets consultant who offers specialized services to stock brokers and high net worth individuals who seek a better bottom line for their portfolios.
Title:
Writer, market consultant
Company:
Linear Trading Systems LLC
Jacksonville, FL 32217
Phone # for sales:
904-239-9564
E-mail address:
lineartradingsys@gmail.com

Traders' Resource Links

Linear Trading Systems LLC has not added any product or service information to TRADERS' RESOURCE.
---
Click here for more information about our publications!
Comments
Date:
 03/03/10
Rank:
 4
Comment:
Date:
 03/18/10
Rank:
 3
Comment:
PRINT THIS ARTICLE