Comparative relative strength analysis remains one of the best ways to help ensure that you deploy your trading and investing capital into the most favorable areas of the stock market. With the air transportation sector fund (FSAIX) doing so well right now in comparison to the broad markets, it might pay to drill down and take a closer look at the strongest component stocks within that fund, hoping to identify ways to turn such astounding momentum into tangible profits. See Figure 1.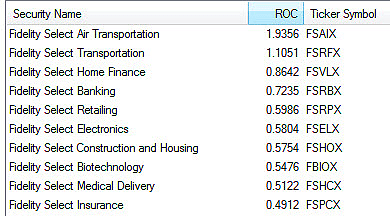 FIGURE 1: TOP 10. While the top-10 rankings show plenty of diversity, the air transportation sector fund easily qualifies as the 800-pound gorilla in the room.
Graphic provided by: MetaStock.
Graphic provided by: MetaStock Explorer.
Here's the weekly top-10 ranking of the strongest Fidelity Select Sector funds over the past 13 weeks, compared to the Standard & Poor's 500. FSAIX holds a commanding relative strength advantage over the rest of the highly ranked funds, boasting nearly twice the strength of the more generally focused transportation fund (FSRFX). It is interesting to note, however, that the top-10 ranking is populated by a variety of funds, hailing from the banking, retailing, home finance, construction and housing, biotechnology, electronics, and medical delivery sectors. This confirms that the recent minor advance in the market has enjoyed broad participation, but it does little to alert us to what the direction of the broad markets may be in the coming days and weeks. That said, let's identify the strongest stocks in the air transportation fund and then look for a trading opportunity or two. See Figure 2.



FIGURE 2: STRONGEST STOCKS. Drilling deeper, we find that UAL Corp. shares are the strongest stock within the airline sector, based on a 13-week rate-of-change (ROC) calculation.
Graphic provided by: MetaStock.
Graphic provided by: MetaStock Explorer.
No question about it, based on 13-week rate of change versus its parent fund, FSAIX, UAL Corp. (UAUA) is the leader of this pack, far overshadowing lesser rivals such as Continental and Southwest. Since this stock is way past the "buy on a pullback" point, at least for now, how do we latch onto this ascending wide-body right here? By selling an at-the-money (ATM) covered call, of course. What a chart - Figure 3 has got it all:

* Strong money flow (bottom of chart)
* Powerful momentum (top of chart)
* A rising 50-day EMA slope (blue exponential moving average line)
* Stock is at post-crash highs
* Stock has incredible relative strength versus broad market and its parent sector
* Strong support levels that can help protect a short-term covered-call trade.

So, here's the trade setup:

For every 100 shares of UAUA that you acquire, sell one April 2010 UAUA $17 call option for a credit of $1.70 or better. If the stock is called away at expiration (46 days from now), the trade will generate an annualized return of nearly 70%, which is a nice return for such a short-term commitment of capital. If you set an initial get-out (stop-loss) point at $14.75 a share (major support), you stand to incur only a modest loss if the trade goes haywire, as ATM options like this have the most amount of time value, meaning that the short options' deltas will drop like a falling stone on any selloff in UAUA shares, greatly offsetting any losses in the price of the underlying stock.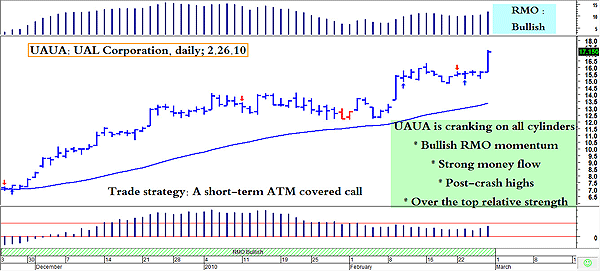 FIGURE 3: UAL, DAILY. Finally, the chart for UAUA. Strong momentum, money flow, and new post-crash highs all suggest that selling an April $17 call option against every 100 shares of UAUA is a realtively low-risk trade setup, one offering an exceptional annualized return of nearly 70%, if successful.
Graphic provided by: MetaStock.
Graphic provided by: Rahul Mohindar oscillator (RMO) from MetaStock.
Should you get in on this trade, a great way to trail a stop would be to simply use the 50-day EMA as your trailing stop, especially once it rises above $14.75, the current major support level. This will give the stock plenty of room to back and fill and allow you extra peace of mind between now and April option expiration.

Strong stocks tend to stay strong, sometimes for far longer than we might otherwise assume, and this setup in UAUA certainly looks about as low risk as they come.