Micron Technologies (MU) is a company that many computer owners may already be familiar with, especially if you've upgraded your computer's memory capacity sometime during the last 10 years. Lately, its shares have been on an upward rampage, gaining about 67% since making a major low in early November 2009. The gains have been impressive enough to earn MU one of the top slots in the weighted relative strength ranking exploration in MetaStock, as shown in Figure 1.



FIGURE 1: S&P 500 COMPONENTS. Micron Technologies ranks among the strongest of all S&P 500 index components.
Graphic provided by: MetaStock.
Strong stocks tend to stay strong, and one of the best MetaStock explorations to use to locate stocks with exceptionally strong momentum is the Deel momentum filter. For this article, I simply loaded the Standard & Poor's 500 component stocks and let the exploration sort through them all to find the top momentum performers. According to the description attached with the exploration, the Deel momentum filter tends to find stocks that may be able to stay strong for anywhere from a few days to a few weeks. Figure 2 is a daily chart for MU, detailed with the most significant aspects that confirm the existence of a strong trend.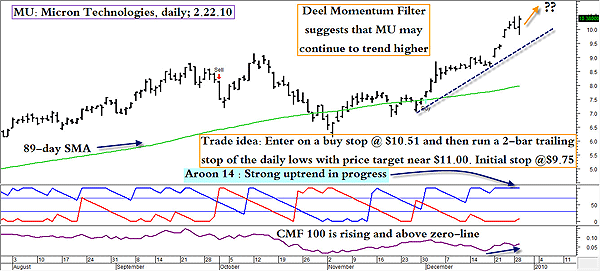 FIGURE 2: MU, DAILY. Trendline, moving average, Aroon, and money flow analysis all agree that MU is in an exceptionally strong uptrend. With a price target near $11.00, aggressive traders might choose to enter on a buy-stop above the most recent bar, near $10.51.
Graphic provided by: MetaStock.
MU has just bounced higher after forming a fresh uptrend line, even as the Aroon (14) trend intensity indicator remains pegged at its upper (bullish) boundary. Meanwhile, long-term money flow, as represented by the Chaikin money flow (CMF)(100), remains well above its zero line and is also in upward acceleration mode.


Now, of course, no one knows what MU will do tomorrow, much less where its price may be a week or two from now, but for traders comfortable with trading established momentum setups, entering long on a buy-stop at $10.51 might be the simplest way to jump on this fast-moving equity train. More conservative traders might wait for a minor 15- to 30-minute intraday pullback, hoping for a better entry price.

If filled, place a sell-stop a few ticks below Monday's wide-range daily bar (near $9.75) and then attempt to hold on for a possible ride up to the $10.90 or $11.00 price level (run a two-bar trailing stop of the daily lows in an attempt to keep a tight rein on the stock, just in case it decides to reverse lower from such lofty levels). There is a major Keltner resistance band projected to be in that area, one that MU will probably have a hard time exceeding, at least on this swing. The $11.00 area would be a terrific place to take at least partial profits, if not to close out the trade altogether. Remember that the broad markets are also getting a bit overextended, too, but sometimes the market's idea of overextended is completely different than ours, as it decides to just keep on going to price levels (up or down) that aren't normally thought to be possible. Just respond to what the market is demonstrating rather than trying to tell it to do what you think it should do and you'll be a much happier, much more successful trader.