Up by more than 220% between October 2008 and December 2009, shares of the Fidelity Select Sector Gold (FSAGX) mutual fund were definitely the right place to have allocated at least a portion of your funds during that 14-month period. In fact, FSAGX still boasts the highest-weighted relative strength among all of the Fidelity sector fund complex, but you need to actually look at a chart to determine if this is still an attractive sector fund in which to put some of your cash. That said, let's take a look at the weekly chart for FSAGX now and see what we might be able to learn.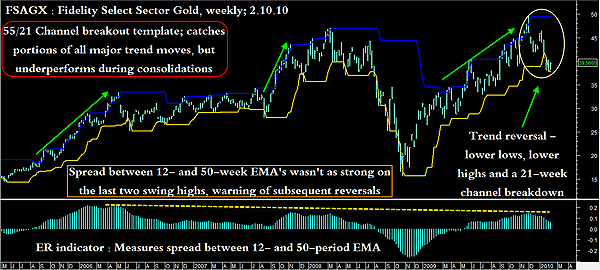 FIGURE 1: FSAGX, WEEKLY. Despite having the best-weighted relative strength of all Fidelity sector funds, a wise trader would still analyze this chart of FSAGX; the recent trend reversal and break of the lower channel was the exit signal for all longs using this simple 55/21 (long-only) channel breakout system.
Graphic provided by: MetaStock.
Figure 1, a weekly chart, is overlaid with 55-week and 21-week Donchian channel templates, a chart intended to catch portions of all significant trending moves in any given stock or futures contract. As far as complexity goes, it's about as simple as a box of rocks, but it can and does work well from time to time. The three green arrows show the last three major trend moves that the method latched on to, and the results are obviously good. Note how late the entry signals are in most cases and how frustrating it would be to stay with such a method during extended periods of sideways chop. If you decide to build a system based on a similar method, you may want to make sure that the stock, exchange traded fund (ETF), or futures contract in question is also exhibiting a major trend move in a higher time frame.

For example, if a daily 55/21 channel breakout system like this were flashing a buy signal in Treasury bonds, you'd at least want to make sure that the weekly chart of T-bonds was exhibiting a series of higher highs and higher lows and upsloping trendlines; perhaps a 34-week simple moving average (SMA) would be useful in that regard (check out Jim Berg's excellent STOCKS & COMMODITIES February 2005 article, "The Truth About Volatility," for more info). Deploying these two simple filtering techniques may prove very effective in helping screen for daily based channel breakout entries that have a higher probability of success. If you have any doubts about this, try it and see, and you too will be a believer in the power of intelligent trend-following.


That said, what about the current situation with FSAGX? The fund has recently broken below its 21-week channel break line even as a trend reversal (see white oval on chart) has also been confirmed. So even though FSAGX still has excellent relative strength versus its peers in the Fidelity sector fund complex, that doesn't necessarily qualify it as a buy candidate, especially based on 55/21 price channel breakout criteria. If you look at the monthly chart for FSAGX, it is above the 34-month SMA (with an upward slope) but the series of highs and lows is in mixed mode, at least until either January's high is exceeded on a monthly closing basis. Based on this particular method, FSAGX is a no-go at this time. You can't short FSAGX, but you could always short GDX instead; it's an ETF with similar trend patterns that is actually a more flexible trading vehicle for traders who may also wish to go for long-term trend moves, up or down.


A final thought on channel breakout systems like this — yes, they really do work, but it pays to do plenty of back- and forward testing on the basic system first before applying any filters, as described earlier. If you can obtain consistently profitable results with a raw channel breakout system, then you may be on to something you can and will actually trade in the real world, especially when intelligent trend-confirming filters are utilized. If you are a system tinkerer, this kind of project might be right up your alley, so give it a whirl if you dare.