PRINT THIS ARTICLE
TRADING SYSTEMS
---
Iron Mountain Sliding Downhill
01/26/10 08:26:00 AM
---
by Donald W. Pendergast, Jr.
---
One of the weakest relative strength stocks in the S&P 500 has just flashed a daily chart sell signal.
Security:
IRM
Position:
Sell
With the broad US markets likely in the early stages of an intermediate-term trend reversal, locating the stocks with the poorest long-term relative strength versus the Standard & Poor's 500 can help traders home in on promising short-sale candidates.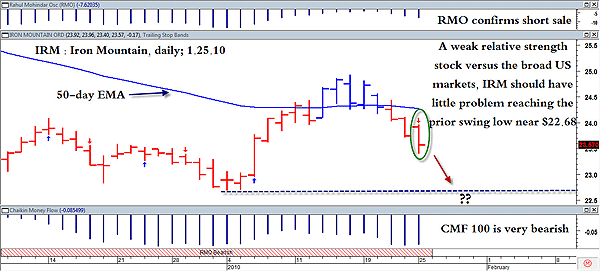 FIGURE 1: IRM, DAILY. This isn't a pullback-style short entry, but for enterprising smash and grabbers looking for a quick move down to the recent swing low support, this RMO short signal could be just the ticket.
Graphic provided by: MetaStock.
Iron Mountain (IRM) stock has put in a lackluster performance since the markets bottomed in March 2009. Even though the shares are higher on an absolute basis, the stock has been in a confirmed downtrend (lower swing lows and lower swing highs) for nearly five months now. Even better for those who seek easy short-sale prey, the stock has just issued a fresh RMO sell signal, one that appears to have several supportive technical factors offering further confirmation of the signal. Here are the essential details:

* Confirmed long-term daily downtrend
* The 50-day exponential moving average (EMA) is sloping downward, with the stock unable to remain above this critical dividing line for any length of time.
* The Rahul Mohindar oscilator (RMO — shown at top of chart) is deep into bearish territory, confirming the heavy downward momentum (see Figure 1).
* The long-term Chaikin money flow (CMF)(100) is also mired in the depths of bear country.
* The moving average convergence/divergence (MACD) histogram (not shown) is getting very close to a possible bearish zero-line crossover, an analysis method that frequently identifies the start of strong trending moves.

Since the stock already boasts such rotten relative strength, this appears to be a short signal worthy of further consideration. Here are a couple of ways to play this, depending on your general level of bearishness on IRM.


Note that the next support level in IRM comes in at $22.68, which is the most recent swing low. There's about $0.85 of potential profit here (assuming enough traders are following the RMO swing trading model in IRM, that is) and depending on the morning session follow-through (or lack of it), traders may be positioned to obtain even more profit if they can muster the patience to wait for an intraday (15- to 30-minute) retracement higher to grab a better short entry price. If you want to play this for a short-term momentum, move down to support ($22.68), just set that as your profit target and perhaps use a two-bar initial/trailing stop of the daily highs for the entire move, win or lose, bailing out completely if the target is hit.

Those who see the potential for a more substantial trend move (the odds might favor this, given all that's been previously mentioned in this article) might instead run a three-bar initial/trailing stop of the daily highs, taking half profits at the initial target and letting the balance run until a final stopout.

Such traders could even tighten the trailing stop to a two-bar version if the initial price target is hit, and given the tendency of shorted stocks to stage abrupt, sometimes violent short-covering rallies, running a tighter stop in the wake of a price target hit is probably a wise course of action. Short-selling isn't recommended for novice traders, but this still could be a great trade setup to play with in a trading simulator (Interactive Brokers, TradeStation, and Thinkorswim all offer superb simulators that you can trade just like a real account).

Check them out if you haven't already; more advanced traders can also use them to fine-tune their trading strategies before actually trading them with real money.




---
Donald W. Pendergast, Jr.
Donald W. Pendergast is a financial markets consultant who offers specialized services to stock brokers and high net worth individuals who seek a better bottom line for their portfolios.
Title:
Writer, market consultant
Company:
Linear Trading Systems LLC
Jacksonville, FL 32217
Phone # for sales:
904-239-9564
E-mail address:
lineartradingsys@gmail.com

Traders' Resource Links

Linear Trading Systems LLC has not added any product or service information to TRADERS' RESOURCE.
---
Click here for more information about our publications!
Comments
Date:
 01/26/10
Rank:
 4
Comment:
PRINT THIS ARTICLE