PRINT THIS ARTICLE
SUPPORT & RESISTANCE
---
Silver, Make Or Break
12/22/09 08:27:58 AM
---
by Donald W. Pendergast, Jr.
---
The silver market, along with most other commodities, has taken a heavy hit over the past month. Currently, silver's price lies just above a key swing low made a week and a half ago. Will this support hold back more selling — or not?
Security:
SI, SLV
Position:
N/A
Silver, the "poor man's gold," is one of the most volatile of all commodity markets, and when it becomes set on moving fast and hard in a given direction, there's usually little doubt as to the strength of those trend thrusts. Right now, silver's daily chart (we'll use SLV, the exchange traded fund [ETF] that holds physical silver) is still in bearish mode, although there is one atypically bullish technical indicator that suggests that another minor bounce could still be a possibility. Take a closer look.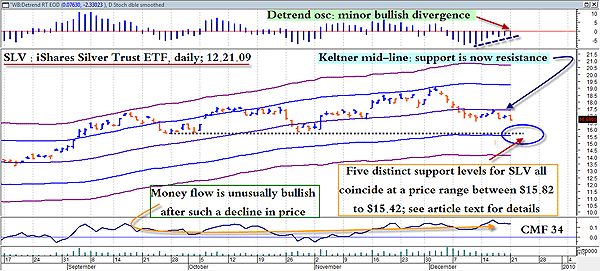 FIGURE 1: SLV, DAILY. With previous Keltner band midline support now acting as resistance, the probabilities favor a move by SLV and silver down toward the mid-$15 range, followed by a tradable bounce higher.
Graphic provided by: MetaStock.
Graphic provided by: Various indicators from ProfitTrader for MetaStock.
Figure 1 is the daily graph for SLV, and the overall trend bias is still down; note how today's (Monday) price bar closed right near the daily low (at $16.69) which just so happens to be only a few pennies above the recent swing low of December 11, 2009, which is at $16.58. The fact that this price area was retested so quickly (without much bullish price action in between) could mean that SLV and silver are preparing to break support en route to the next major sets of support, all of which reside between $15.82 and $15.42. Basically, what seems to be shaping up is a quick ride south down toward the mid-$15 for silver, but once it gets there, expect a real possibility of a tradable bounce higher, given that there are at least five significant support barriers interspersed in that tiny 40-cent price zone, as detailed here:

1. The daily 200-day exponential moving average (EMA) near $15.60
2. The weekly 50-day EMA near $15.42
3. The previous daily swing low at $15.82
4. The previous daily swing low at $15.72
5. The next lower Keltner band at $15.56

While there appears to be little risk on an SLV or silver futures contract short down toward those levels, be prepared for a significant bounce once that general area is reached. Futures traders should be mindful of their short positions, perhaps running a close trailing stop, should this move play out as anticipated.

Oh, yes, the strangely bullish indicator. It's the 34-period Chaikin money flow indicator (CMF)(34), and it's still well above its zero line (see the indicator panel at the bottom of the chart), having hardly even been dented during the noticeable decline of the past three weeks.

This is called a technical nonconformation, and it is basically telling us that something on this chart is going to get sorted out, and in a hurry. Either silver is going to stage a reversal sooner rather than later or the money flow is going to start dropping off with another plunge down toward heavy support in the mid $15. This next week should be very interesting, low holiday trading volumes notwithstanding.





The other main factor that suggests that both silver and gold may indeed be heading down again is the steadily advancing US Dollar Index (DX). The DX looks strong enough to add on at least a couple more handles, taking it up to at least $80.50 before multiple resistances make their presence known, meaning that $15–16 silver and $1,050 gold could be a real possibility early in the New Year, if not sooner. Both silver and gold have heavy support in those price areas, so metalheads should be looking forward to the next short-term bullish swing setups that will likely emanate from those support zones. That should help keep them fat and happy as 2010 commences. For a while, anyway.


---
Donald W. Pendergast, Jr.
Donald W. Pendergast is a financial markets consultant who offers specialized services to stock brokers and high net worth individuals who seek a better bottom line for their portfolios.
Title:
Writer, market consultant
Company:
Linear Trading Systems LLC
Jacksonville, FL 32217
Phone # for sales:
904-239-9564
E-mail address:
lineartradingsys@gmail.com

Traders' Resource Links

Linear Trading Systems LLC has not added any product or service information to TRADERS' RESOURCE.
---
Click here for more information about our publications!
Comments
Date:
 12/22/09
Rank:
 3
Comment:
PRINT THIS ARTICLE