PRINT THIS ARTICLE
MOMENTUM
---
For Teradyne, Take The Money And Run--But Not Yet
12/15/09 08:22:13 AM
---
by Donald W. Pendergast, Jr.
---
Of all of the stocks in the Standard & Poor's 500, Teradyne has the strongest short-term momentum. Is there still time to extract some profits on a move higher in this stock?
Security:
TER
Position:
Buy
Teradyne's (TER) daily chart (Figure 1) features a number of bullish attributes, not the least of which is its strong upward momentum. In fact, the MetaStock exploration that I used to screen for strong momentum stocks is called the "Deel-Momentum Filter"; it comes standard with MetaStock v.10 and v.11 and does a very good job of screening for stocks with exceptionally bullish trend characteristics that are also likely to follow through with further gains over the short term. The screen certainly did a good job on this pass through the S&P 500 component stock list this evening; TER was at the top of the list, turning in the best one-day performance of all 500 stocks in the list.

As we take in the big picture here, there's a lot for a bull to like:

* The stock has just made a powerful gap breakout from a nicely formed pennant/flag pattern — a classic continuation move that may reach the $11.00 pattern price target.

* The spread between the 21- and the 50-day exponential moving average (EMAs) is widening, confirming the strength of the underlying trend.

* The Profitunity MetaStock expert advisor is solidly in the bright green "Long" zone, adding a bit of extra confidence for those wishing to consider a long entry here.

Additionally, TER is currently in a ParaSar buy mode, being well above the current stop & reverse stops at $9.24, even as the weekly chart has just issued its own ParaSar buy signal. For those looking to latch onto TER in hopes of squeezing another $0.50–0.75 per share from this momentum move, this could be a good "in and out" kind of play. So, let's consider a low-risk way to play this setup.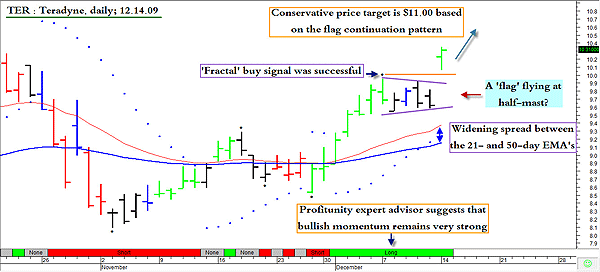 FIGURE 1: TER, DAILY. With a flag flying at half-mast and a powerful underlying trend undergirding it, TER appears posted to make a run at the pattern completion target of $11.
Graphic provided by: MetaStock.
Graphic provided by: Profitunity expert advisor from MetaStock v.11.
This stock has just gapped higher coming out of a consolidation pattern, and that means that there is a pretty good chance that it will attempt to retrace at least a portion of the open gap (a clean gap, in technical terms) that exists between $9.54 and $10.06. Conservative traders might want to see an early morning pullback toward $10.06 (if not lower) before entering their first position and then wait for a break above today's high (Monday, December 14, 2009) near $10.35 to add the balance of their wisely sized position. Once filled, set an initial stop just above the lower boundary of the gap at about $9.54 and then switch to a two-bar trailing stop of the lows as the stock (hopefully) begins to rise again. If TER closes in on the $11.00 area, consider selling half the position and then letting the remainder ride until the final stopout, again using the two-bar trailing stop of the daily lows to extract yourself from the trade.

There aren't any attractive short-term covered calls for TER at this time, and the premiums are rather skimpy, considering the strength of the stock, so most traders would likely fare better by staying with the straight stock play. Always remember to be conservative with your trade sizing, especially with the broad market giving little hints that it may be getting close to a major top. The major hint is this: as the US dollar rises, the stock market may very well decline — just take a look at a side-by-side chart comparison of the US Dollar Index (DX) and the S&P 500 (.SPX) over the past nine months and see if you don't agree that they are almost in perfect inverse correlation. With the US dollar on its way to higher levels (and with gold, silver, copper, and crude oil due for more substantial corrections), it might pay to be quick as you trade short-term momentum moves in TER or any other of your favorite stocks.


---
Donald W. Pendergast, Jr.
Donald W. Pendergast is a financial markets consultant who offers specialized services to stock brokers and high net worth individuals who seek a better bottom line for their portfolios.
Title:
Writer, market consultant
Company:
Linear Trading Systems LLC
Jacksonville, FL 32217
Phone # for sales:
904-239-9564
E-mail address:
lineartradingsys@gmail.com

Traders' Resource Links

Linear Trading Systems LLC has not added any product or service information to TRADERS' RESOURCE.
---
Click here for more information about our publications!
Comments
Date:
 12/15/09
Rank:
 4
Comment:
PRINT THIS ARTICLE