Today, I made three daytrades in TNA, the Direxion 3x Small Cap Bull 3x Shares exchange traded fund (ETF). Liquidity in this ETF is excellent, and it's a terrific short-term trading instrument, one capable of volatile moves in either direction. Of the three trades completed, all but one of my six scale-out exits were profitable, and all were made with a very simple, easy to implement trading strategy that you may be able to adapt into your own trading method.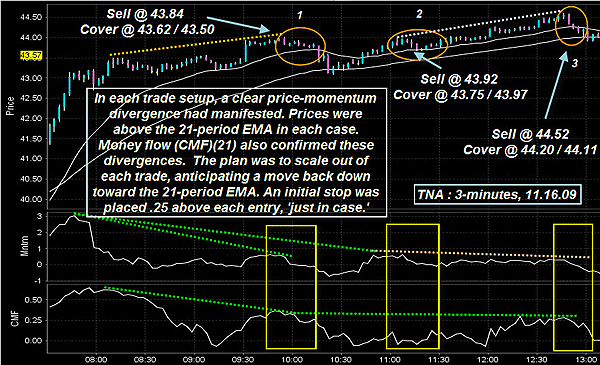 FIGURE 1: TNA, THREE-MINUTE. In nearly every market, in every time frame, the 21- and 50-period exponential moving averages consistently offer predictable support/resistance price levels. Learning to spot price momentum divergences can help you spot intraday trades with logical price targets and good risk/reward ratios.
Graphic provided by: Interactive Brokers TWS three-minute chart.
TNA launched like a rocket right from the start of today's trading session, picking up a full two and a half handles in about two and a half hours, always staying above the 21-period exponential moving average (EMA) on the three-minute chart. So, realizing that a trend day was now official, I set about looking for any possible divergence setups to short back to the 21-period EMA. Normally, these are fairly low-risk, high-probability trades, as a strong trend will invariably test the 21-EMA a number of times before either moving higher or breaking down for a trip down to the 50-period EMA.

I had been tracking the performance of the nine-period momentum and 21-period Chaikin money flow indicators, respectively, and by 9:40 Mountain time, I had my sights set on a very solid negative price-divergence setup (see trade #1 in Figure 1). The gold circle shows the entire time span of the trade and the rectangular box at the lower portion of the chart depicts the massive negative divergences between the upsloping price trend and the ever-weakening momentum and money flow trends. So at 9:42, I shorted TNA at $43.84, with an ultimate price target of the 21-period EMA. Normal thinking would have it that shorting such a powerful uptrend would be the province of mad scientists or thrill-seeking self-saboteurs, but remember, even the strongest trends have to correct, even if it's just to build a base for the next leg higher.

With that in mind, the trade quickly obliged, never even coming close to my 25-cent stop-loss. When TNA hit $43.62, I covered half the position right above the 21-period EMA and then brought my stop to breakeven. A few minutes later, the stock dropped below that EMA, allowing a fast closeout of the balance of the trade at $43.50. Not bad — a net gain of 0.59% in about 34 minutes.

On to the next trade. This one was also a price-momentum divergence setup; it was a similar deal — TNA was well above the 21-period EMA and appeared to be stalling after mounting a very healthy retracement. The fact that it stalled shy of the prior session high with obvious negative divergences in play caused me to short TNA once again at 11:08. In at $43.92, a quick drop toward the 21-period EMA and out with half at $43.75. I brought the stop back near break even getting stopped out on the balance of the position for a five-cent loss. Net gain on the trade: 0.14% in 25 minutes.

Now, the final trade of the day. TNA continued to trudge higher, posting incredible gains for the session; at one point it was up nearly 10% on the day (this is a triple-leveraged, small-cap ETF, remember), and at about 12:45, another lovely negative divergence announced its potentially profitable presence. Not one to turn down an offer like this, I obliged and shorted TNA again at $44.52. I waited about two minutes and the price began to plummet; within nine minutes I was out at $44.20 and then closed out the rest at $44.11. Had I followed my plan faithfully, I might have gotten out at the 50-period EMA for a really nice gain on this final trade, but what the heck, a 0.82% gain on this particular intraday move was just fine with me.


A 1.49% net gain (including commissions) on three-day trades may not bring in the cash like a Donald Trump real estate deal can, but think about it for a minute — would you rather leave all of your money in a 1.5%, one-year CD at the bank, or would you rather trade a simple, yet profitable method like the one just described, averaging 0.3% to 1.5% per day as a daytrader? Surely, you should only trade like this with a modest portion of your funds, but if you can average 100% per year on your daytrading account (without margin) with $25,000 and you leave $75,000 at 1.5% per annum at the First Bank of the Lowest Rate, you'd still earn about $26,000 per year. Why not practice with this basic style of divergence trading for the next few months using a paper trade account (Interactive Brokers and Thinkorswim offer outstanding trade simulators) and see how well you can begin to understand the basic tendencies of the market?

You might be surprised at how far two moving averages (the 21-period and 50-period EMAs) and the nine-period momentum and 21-period Chaikin money flow indicators can take you on your road toward consistent intraday profitability. For even better results, overlay your three-minute charts with the intraday floor trader pivot grid (pivot points) and then marvel at how often these different indicators will combine to identify low-risk, high-probability trading setups.