Fluor Corp. is a giant in the construction and engineering business, but its common stock has begun to turn lower despite the fact that the company shows solid earnings growth estimates for the next year or so. With the broad market likely embarking on the next leg down in a three-wave corrective pattern, the odds favor more downside in this particular stock. An examination of FLR's daily chart will give us plenty of technical clues as far as what to expect next (Figure 1).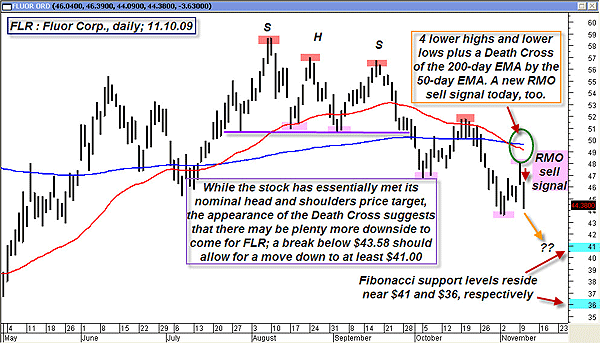 FIGURE 1: FLR, DAILY. Just because this stock has dropped considerably does not mean that it can't go even lower.
Graphic provided by: MetaStock.
FLR topped out a month before the broad market (.SPX, .RUT, .NDX) did, gradually forming a head & shoulders pattern on its daily chart. By late September, FLR broke down from the H+S pattern, dropping beneath its 200-day exponential moving average (EMA). A pattern of lower highs and lower lows also became evident, and after a feeble rally attempt in mid-October, FLR once again plunged beneath its 200-day exponential moving average (EMA), a very bearish omen indeed. As if that wasn't enough bearish news, the 50-day EMA has just crossed beneath the 200-day EMA (blue line), completing a move that has become known in trading circles as the death cross (DC). It's an apt title, because of the tendency of a stock or commodity to languish in bear market territory for months at a time after such a cross occurs. Sure, the stock may rally from new lows, but in many cases the first touch of that downsloping 50-day EMA (red line) will turn prices back lower. And for as long as the 200-day EMA is sloping downward, the sentiment in this or any other death cross stock is likely to be very bearish indeed.



FIGURE 2: S&P 500 STOCKS, TOWARD THE BOTTOM. Of all the S&P 500 stocks, FLR ranks as #494, right near the bottom of the barrel. Shorting weak stocks make much more sense than shorting those that are outperforming the broad market.
Graphic provided by: MetaStock.
Graphic provided by: MetaStock Explorer.
In the "That's great to know, but what can I do right now to make some cash with FLR?" part of our presentation, we have a possible way to play this DC plunger:

First off, the broad market looks ready to fall out of bed again, and if today's price action was any hint, we should see a well-defined, multisession period of lower prices that may stretch all the way down to the early November lows made in the R2K and .SPX, if not lower. This is great news for those who want to go short FLR, especially since FLR has one of the lowest 13-week relative strength rankings versus the Standard & Poor's 500 (see Figure 2).

FLR is just a tad higher than the swing low of five sessions ago ($43.58), so any drop below that level is a short signal. The next significant support level in FLR doesn't appear until about $41, so savvy short sellers might be able to wring a couple of dollars out of this setup without even breaking a sweat. If you do get in on this short setup, consider setting an initial stop near $46.39 (Tuesday's high) and then trailing it with a two-bar trail of the daily highs. Alternatively, you could also trail it with a Gann swing line set at a two- or three-bar simple moving average of the daily highs.

Regardless of how you try it, consider grabbing at least half (if not all) profits should the $41 area be reached, as that could be a likely short-term reversal point. In trading as in life in general, the proverbial bird in the hand really is worth more than the two in the bush, and nowhere is this truer than when holding short positions in the market -- any market. A word to the wise should suffice.