PRINT THIS ARTICLE
STRATEGIES
---
A Problem With Sentiment
10/14/09 08:53:24 AM
---
by Mike Carr, CMT
---
While we like to believe the crowd is always wrong, they are only wrong at extremes in the market, and these can usually only be identified in hindsight.
Security:
DX
Position:
N/A
No one loves the US dollar this week. Elliott wave guru Robert Prechter told Bloomberg News: "I'm very bullish on the dollar. There's extreme pessimism, and that usually marks a bottom." Prechther is interpreting sentiment to mean that when everyone holds the same opinion, the market is likely to reverse.


The Drudge Report recently had a headline stating, "Kiss the Dollar Good Bye." This is the modern version of the magazine cover indicator. Many years ago, market analyst Paul Montgomery found that when national news magazines put a market opinion on the cover, the market was due to turn. The most famous example was BusinessWeek's "Death of Equities" cover in August 1979, when the market was five years away from its bear market lows but in an extended consolidation pattern.


Sentiment is not a good timing tool, despite what many believe. While any market is in a strong trend, the majority is right. Eventually, the trend will reverse and at that point, the majority will be wrong. But there is no way to tell when that time will come from sentiment.


In the end, we trade price, not sentiment. We can see the trend in Figure 1. The dollar index is in a downtrend.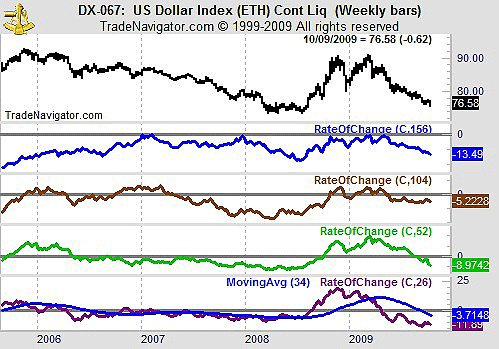 FIGURE 1: US DOLLAR INDEX, WEEKLY. A weekly chart of the US Dollar Index with several long-term rate-of-change calculations make it easy to spot the long-term trend.
Graphic provided by: Trade Navigator.
There are also indicators showing the rate of change for six months, one year, two years, and three years. All are negative. An uptrend is defined by the rate of change; it must be positive before the trend can be considered to be up. For now, the majority opinion seems to be right and the dollar is in a bear market.


---
Mike Carr, CMT
Mike Carr, CMT, is a member of the Market Technicians Association, and editor of the MTA's newsletter, Technically Speaking. He is also the author of "Smarter Investing in Any Economy: The Definitive Guide to Relative Strength Investing," and "Conquering the Divide: How to Use Economic Indicators to Catch Stock Market Trends."
---
Click here for more information about our publications!
Comments
Date:
 10/15/09
Rank:
 5
Comment:
Date:
 10/20/09
Rank:
 5
Comment:
PRINT THIS ARTICLE