PRINT THIS ARTICLE
TRADING SYSTEMS
---
Samex Mining Corp. Penny Stock Breakout
10/12/09 10:03:25 AM
---
by Donald W. Pendergast, Jr.
---
Trading penny stocks is guaranteed to provide a thrill a minute, whether the trade turns into a winner or a loser. Here's a low-priced stock that may be in the first stages of a move toward dollar territory.
Security:
SMXMF.OB
Position:
Buy
Those of you familiar with the history of trading system development may recall a very interesting trend-following method that was introduced by R.C. Allen around 1972 in his book How To Build A Fortune In Commodities. Allen's basic system entered a long position after a cross of the nine-period moving average (MA) crosses the 18-period MA to the upside. An exit signal was triggered when the four-period MA crossed the nine-period MA to the downside. Here's a faster variation of the same system, one used to generate a long entry signal on an interesting penny stock from the precious metals industry group. See Figure 1.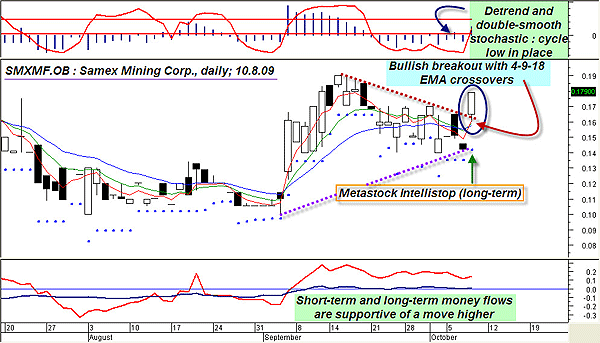 FIGURE 1: SAMEX MINING, DAILY. Every stock has to start somewhere, and based on the technicals shown, Samex shares appear to be in a good position from which to move higher along with the price of gold itself.
Graphic provided by: MetaStock.
Graphic provided by: WB Various indicators from ProfitTrader.
Samex Mining Corp., headquartered in British Columbia in Canada, is engaged in the exploration of gold, silver, and copper in Chile. The stock is definitely in the low-priced category, but recent price and volume activity has definitely placed the shares on the radar screens of precious metals (PM) equity traders across North America.

Before we go any further, be aware that trading sub-$5 stocks can be an especially risky proposition and that only "fun money" should be allocated to such trades, the exact amount to be determined by your own discretion. That said, this setup appears to have all of the key technical factors in place:

1. The stock is in an uptrend (higher highs and lows).
2. Short-term and long-term Chaikin money flows are strong.
3. The detrend oscillator and double-smoothed stochastic appear to have confirmed a new daily price cycle low.
4. Prices have completed a wide-range breakout.
5. The stock's four-period exponential moving average (EMA) has just crossed both the nine- and 18-period EMAs with both the four- and nine-period EMAs being above the 18-period EMA.

All of these technical fireworks are occurring even as gold is in the midst of a powerful monthly breakout that has propelled it to new nominal all-time highs. Clearly, this could be a relatively low-risk trade setup for PM stock bulls.



If you missed the breakout from the pattern (Thursday October 8, 2009), it may not be too late to jump on board, especially if you have the patience of a trend-follower. One way to play this is to enter half a position on a buy-stop break above today's high at $0.179 and then wait for an intraday pullback to load on the other half of the position. Once all in, consider placing your trailing stop at $0.142, which also happens to be the current location of the new MetaStock Intellistop (long-term version; see the blue dots on the chart) trailing stop. If you have MetaStock, the stop will automatically adjust with the daily price action of the stock. On a practical level, you might also consider taking some profits near the $0.190 level, the location of the prior swing high. There is a great deal of resistance between $0.189 and $0.193, so this might prove to be a prudent strategy if the stock continues higher.


If you have a $25,000 trading account and decide to risk 0.6% of your total account equity on this trade setup, you'd be able to buy about 2,900 shares (assuming a commission of about $25 per side) at $0.179 and, even if you were immediately stopped out at $0.142, you'd still only lose about $157, or about 0.62% of your total account value.


---
Donald W. Pendergast, Jr.
Donald W. Pendergast is a financial markets consultant who offers specialized services to stock brokers and high net worth individuals who seek a better bottom line for their portfolios.
Title:
Writer, market consultant
Company:
Linear Trading Systems LLC
Jacksonville, FL 32217
Phone # for sales:
904-239-9564
E-mail address:
lineartradingsys@gmail.com

Traders' Resource Links

Linear Trading Systems LLC has not added any product or service information to TRADERS' RESOURCE.
---
Click here for more information about our publications!
Comments
Date:
 10/12/09
Rank:
 4
Comment:
PRINT THIS ARTICLE