PRINT THIS ARTICLE
RATE CHANGE - PRICE
---
Rate Of Change
09/30/09 09:00:03 AM
---
by Mike Carr, CMT
---
This indicator is rarely used but can provide valuable insights.
Security:
HG
Position:
N/A
Most traders fail to examine what the indicator known as the rate of change really is, which is simply the percentage change in price over a defined period. For example, to calculate the 26-week rate of change, you would subtract the price 26 weeks ago from today's price and then divide that difference by the price 26 weeks ago.


One problem with it is that it just seems to be too simplistic to provide trading signals, and this is true. But it can be combined with a moving average and applied to trading strategies as a trend filter. This idea is shown in Figure 1.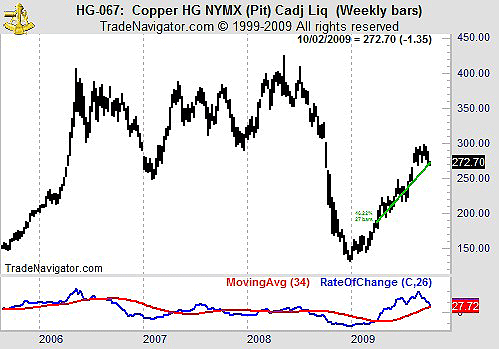 FIGURE 1: COPPER. Here's copper with the 26-week rate of change and a 34-week moving average.
Graphic provided by: Trade Navigator.
In this figure, the rate of change in price is trading above its long-term moving average. A 34-week moving average is used, but there is nothing magical about that number. Waiting for the crossover to initiate a long position allows the trader to capture almost half of the move off the bottom.


Applying a moving average to an indicator is an overlooked technique, yet it is actually the basis of the well-known and widely followed stochastic indicator. In this case, the technique can serve as a trading signal or a trend filter as part of a more complex strategy.


---
Mike Carr, CMT
Mike Carr, CMT, is a member of the Market Technicians Association, and editor of the MTA's newsletter, Technically Speaking. He is also the author of "Smarter Investing in Any Economy: The Definitive Guide to Relative Strength Investing," and "Conquering the Divide: How to Use Economic Indicators to Catch Stock Market Trends."
---
Click here for more information about our publications!
PRINT THIS ARTICLE