Despite a natural proclivity toward violent price swings (up and down), for those willing to stay the course in fundamentally sound stocks in various emerging markets, the rewards can be substantial. China Automotive Systems (CAAS) may be one to put on your emerging markets watchlist, and in fact, the stock may be setting up for a breakout move on both a weekly and a daily time frame. We'll start with the weekly chart first, then drop down to the daily chart to examine the finer technical points.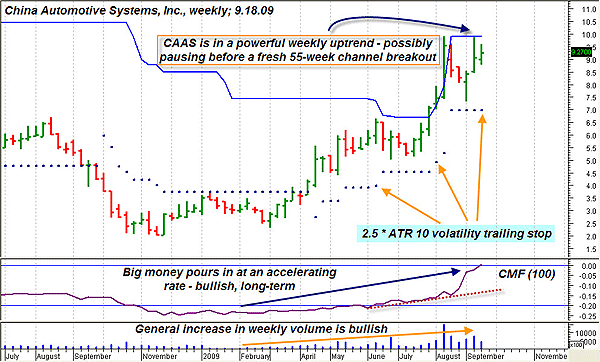 FIGURE 1: CAAS, WEEKLY. Can a strong trend get even stronger? Perhaps, especially if the earnings surprises keep coming on the favorable side. CAAS is setting up for 55-period channel breakouts on both the daily and weekly time frame.
Graphic provided by: MetaStock.
The weekly chart for CAAS (Figure 1) instantly confirms the strength of the uptrend in this stock and also suggests that there may be more upside to come. The long-term (100-week) Chaikin money flow has been rising at an ever-increasing rate (especially since the July 10, 2009, cycle low), the volume trend in the stock looks very strong and the stock is also setting up for another possible breakout above the 55-week channel line (blue line on chart). Some trend-followers trade breaks of both 55-day and 55-week price channels, so this may also be a bullish omen. Note also how the volatility-based trailing stop (blue dots on chart, set at 2.5 * ATR 10) works so effectively to help keep trend-followers in their position trades to maximum benefit. The stock's quarterly EPS trend has also been rising, as has its annual earnings trend, and both of these vital fundamental factors have certainly helped propel the shares to rise so rapidly.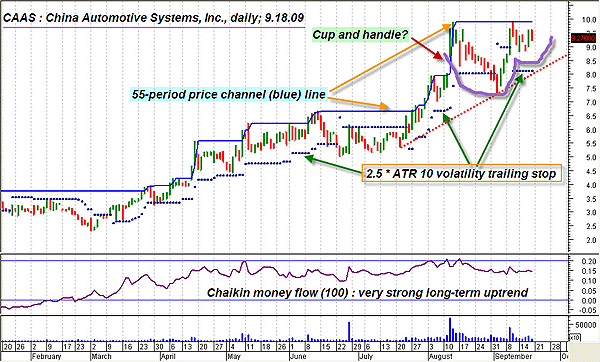 FIGURE 2: CAAS, DAILY. Another channel breakout? Sometimes they work, sometimes not, but your odds are always better when the higher time frames are in a confirmed up- (or down-) trend. Overall, this looks like a very bullish setup for daily based trend-followers.
Graphic provided by: MetaStock.
So, the weekly trend is definitely up, so how are things looking on the CAAS daily chart (Figure 2)? Well, things are even more busy here; Once again, we see CAAS possibly setting up for yet another 55-day price channel breakout, one that might also be part of a bullish cup & handle pattern (purple outline on chart). Given the strength of the stock's weekly trend, this setup should be given every benefit of the doubt on a bullish break of the channel line, especially since the daily Chaikin money flow (CMF)(100) is also holding its ground quite well. The last three quarterly earnings releases were surprise numbers -- all favorable -- and shares of CAAS responded very nicely, so be sure to monitor the price action of this stock at the time of the next earnings release.


Playing CAAS here is basic; wait for a confirmed daily break of the 55-day price channel high (near $9.90), then consider entering half a position near that price and half on a modest 15- to 30-minute intraday pullback move in order to get a slightly better fill, if possible. There's no guarantee you'll even get a chance at a better fill in a strong breakout, but given the nature of channel breakouts, such a favorable opportunity is more likely than not to occur. Once your order is filled, simply trail it with a 2.5 * ATR 10 trailing volatility stop (or a more aggressive 2 * ATR 10 version) and let the trade rip. You'd have a powerful weekly trend and a set of solid fundamental factors working in your favor on such a long entry, along with a responsible get-out point if the trade suddenly stalls and then reverses.


The ever-expanding Chinese automotive industry is likely to present traders and investors with many interesting opportunities over the next 10 to 20 years, and if our technical and fundamental analysis is in proper tune, these could be some of the most profitable years of our trading and investing careers.