In the wake of the 2008 commodity rout, cash silver lost about 57% of its value from March 2008 to October 2008, finally bottoming at $8.81. Anyone tracking the weekly and monthly charts of the precious metal could see the serious technical damage done by the selloff, and many wondered if there wasn't another move lower waiting to play out after a modest retracement rally. Well, the rebound happened (no big surprise for an industrial commodity), but the widely anticipated second stage of the selloff never did, at least not yet. In fact, there is sufficient technical evidence to suggest that silver may very well be on track to meet or even exceed its March 2008 high of $20.70.

Figure 1 is monthly silver, overlaid with Keltner bands, a 20- and 50-period exponential moving average (EMA) and a relative strength index (RSI) (14). There's no secret formula to decipher; what we see here is a successful cross above the Keltner midline, followed by a pair of successful support retests prior to the new monthly breakout above the June 2009 swing high at $15.80. Range on the breakout appears to be sufficiently healthy to propel silver up to a possible meeting with the next Keltner band near $20. In addition, the monthly RSI (14) (bottom of chart) is just a few ticks shy of hitting $60, which is another tipoff that this could be the start of another major monthly swing move in silver.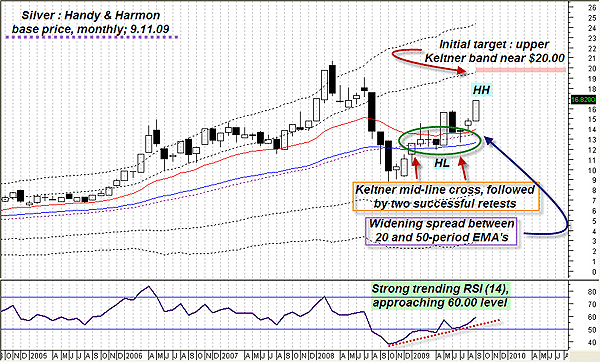 FIGURE 1: SILVER, MONTHLY. Breakouts in the wake of successful tests of support (resistance) are usually worth further investigation, particularly if a significant swing high (low) has also been exceeded.
Graphic provided by: MetaStock.
Graphic provided by: WB Keltner Channels EOD from ProfitTrader.
Moving to Figure 2, another monthly chart, we find that the parabolic stop and reverse system (ParaSar) issued a buy signal early in June 2009. While silver failed to carry higher at first, now that the important support test near the Keltner midline and the monthly 50-period EMA has proven out, silver has easily exceeded the original June ParaSar entry trigger price of $15.64. Bill Williams' Profitunity MetaStock expert advisor (green ribbon at bottom of chart) has also joined the party, suggesting that long is the appropriate strategy at this time. Best of all, these bullish moves in silver are occurring during a favorable seasonal pattern for the commodity. Typically, silver will rally strongly from late August into late September, and it has a good track record of doing so for the past 40 years or so.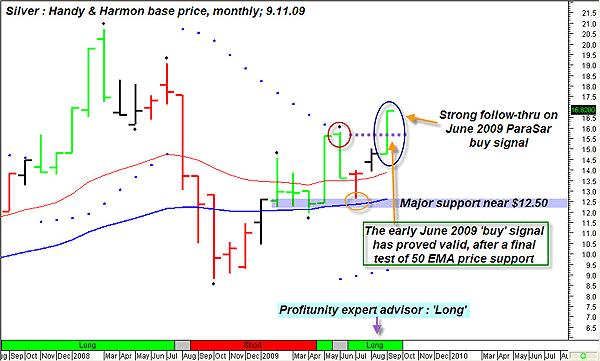 FIGURE 2: SILVER, MONTHLY. June's monthly ParaSar buy signal has finally been confirmed. Note how silver needed to test/retest the 50-period EMA near $12.50 before launching higher.
Graphic provided by: MetaStock.
Graphic provided by: Profitunity - Metastock expert advisor.
With such a decent set of technical/seasonal patterns in place, why not consider selling far out-of-the-money silver put options, options that are extremely likely to expire worthless unless some extraordinary commodity market reversal takes place? If you can sell a December 2009 Comex $11.50 silver put for approximately $0.050 ($250), you'll get cash upfront into your margin account, the option sold will have an extremely low delta (unlikely to expire in the money) and the option will also be losing time value on a daily basis, shedding ever-larger portions of its time value during the final 30 days prior to options expiration on November 23, 2009. Overall, this appears to be a very low-risk trade for silver bulls, given the bullish technical and seasonal aspects evident in the silver market.