Irving, TX-based Carbo Ceramics is a major supplier of ceramic proppants to the oil and gas drilling industry worldwide. The company's common shares have just staged a major breakout from a seven-week-old consolidation pattern, and it also appears to have many favorable technical and fundamental factors going its way. CRR's daily chart provides us with nearly all of the significant details we need to make a further evaluation (Figure 1).


FIGURE 1: CRR, DAILY. A high-volume breakout from a sizable consolidation pattern, one occurring after two successful tests of support, is one worthy of further investigation.
Graphic provided by: MetaStock.
Graphic provided by: WB Keltner Channels EOD from ProfitTrader.
While no one knows how far any given breakout move will carry, CRR's technicals look very appealing; both the long- and short-term Chaikin money flows [(CMF)(100) and (CMF)(34)] are well above their respective zero lines and are very much in sync with the recent breakout in the stock, an upthrust that has occurred on massive volume and that took out the two most recent swing highs in its wake.

Prior to this successful breakout move, CRR also completed two significant tests of support, the first near $39.00-40.00 and the second one near $41.50-42.50 (see the pair of rectangular green boxes on the chart). When trading breakouts, it's always good form to make sure that the stock or commodity in question has completed a valid support/resistance test prior to the breakout; it should help give you added confidence to place and then stay with such trades, all else being equal.

Finally, although not essential to trade confirmation, it is interesting to note how the entire Keltner band complex (all based on standard deviations around a 45-period exponential moving average) is sloping upward, a major (albeit lagging) confirmation of the current bullish trend in CRR shares. There can be little doubt that CRR's outstanding earnings growth estimates are also playing a major role in keeping the big flows of money coming into this particular energy sector stock.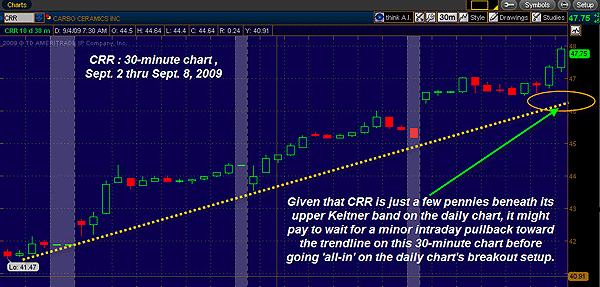 FIGURE 2: CRR, 30-MINUTE. Will it pull back? Timing is always critical to the profitability of discretionary traders; sometimes the best trading decisions are birthed from intuition rather than from logic.
Graphic provided by: ThinkorSwim 30-minute chart.
Figure 2 is the 30-minute chart action in CRR since late Wednesday, September 2, when the stock made a major swing low/support test before running dramatically higher. Since CRR is due to meet with expected resistance near its upper Keltner band (the stock is only about $0.25 shy of that band right now), it might pay for traders to wait for an anticipated intraday pullback toward the uptrend line depicted on this intraday chart (golden line near the ellipse area) in order to get a better fill. Or put half on at Wednesday's open and then wait for this desired pullback to complete the order. For all we know, the stock may just keep ratcheting higher, but after such a sharp 30-minute uptrend, an intraday pullback/pause certainly wouldn't be unexpected right about now.


Option premiums aren't too hot right now for CRR, and the bid-ask spread is lackluster as well, thus precluding any viable covered calls at the moment. But given the bullish developments on CRR's 30-minute and daily charts, enterprising traders shouldn't have any problem finding ways to turn a profit here, especially if the broad markets and the price of oil/natural gas each continue to remain in bullish modes.