Channel breakout trading first gained major attention back around 1962 when Richard Donchian introduced his trend-following methodology to the trading world. The premise of the system was as simple as it was ingenious; a long trade entry occurred if price exceeded the highest high of X number of bars and a short sale occurred if price dropped below the lowest low of X number of bars. Donchian knew that many of these channel breakouts would result in losing trades (as is typical of many trend-following systems), but he also realized that a minority of these trades would go on to be major winners, carrying the entire system to profitability over time. His ideas were so good that they even formed the basis for Richard Dennis's famed Turtle trading system, the profitable trend-following method written about by Curtis Faith in Way Of The Turtle.

The stock breakout we'll examine today could just as well have been traded by Donchian or Dennis, but we'll do a little extra legwork and make sure that this trend-following setup is as low-risk as possible.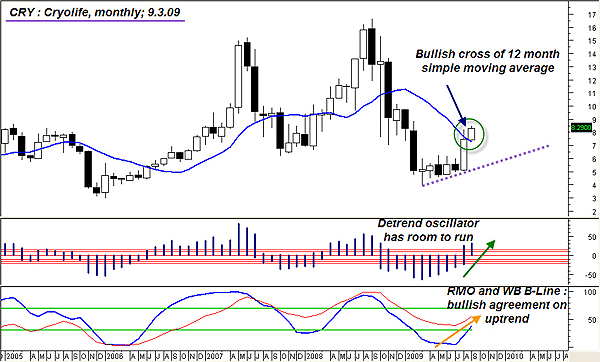 FIGURE 1: CRY, MONTHLY. The bullish monthly cyclical action in the wake of August 2009's massive reversal candle is very convincing.
Graphic provided by: MetaStock.
Graphic provided by: Various RMO and WB Metastock indicators.
Cryolife (CRY) hails from the medical products industry group, focusing on the development and implementation of human tissue implants in various kinds of cardiovascular, vascular, and orthopedic surgeries. The stock currently has an excellent earnings estimate forecast over the next 12 to 15 months, which has certainly helped to keep the stock in a strong uptrend for the past month or so. As we glance at CRY's monthly chart (Figure 1), we find many reasons why a long-term trend-follower might get excited; the stock is in process of completing the first bullish monthly cross in its 12-period simple moving average in 18 months and both the Rahul Mohindar oscillator (RMO) and WB B-Line oscillator (bottom of chart) are in unison, showing strong agreement that the monthly cycle in CRY is in a strong uptrend. In addition, the WB Detrend oscillator (dark blue histogram), which also happens to be a very effective cycle confirmation tool, is suggesting that CRY still has plenty of room to run until a major monthly cycle top is due.

Now, let's get down to an actual daily timing signal in CRY, one based on a very strong 55-period price channel breakout.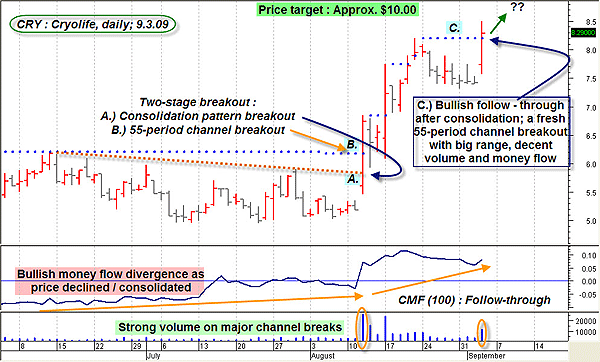 FIGURE 2: CRY, DAILY. Two for the money? While no one knows if this new channel breakout will carry as far as the first one, CRY's strong trend could carry the stock to $10, based on basic chart pattern analysis.
Graphic provided by: MetaStock.
As if the monthly chart mechanics aren't enough to get a bull all ready to charge, check out the structure of CRY's daily graph (Figure 2). Here, I've overlaid a 55-period price channel (blue dots) and have also plotted the Chaikin money flow (CMF)(100) and daily volume. Before we examine today's breakout, let's glance at the initial breakout move that really got CRY flying last month.

Beginning in early June, CRY was just meandering along before gradually declining until mid-July. Price formed a tentative bottom in the wake of the broad market turnaround (July 13, 2009) but failed to rally significantly along with the rest of the market. That price behavior changed abruptly on August 12, when CRY suddenly bolted higher, simultaneously breaking out of both a major consolidation pattern and the 55-period price channel -- all in the same trading session, and on mega bullish volume and daily range to boot.

It's not likely that any serious technician had any doubt that this breakout in CRY was the real McCoy, one destined to have strong follow-through (and that's in no small part due to the bullish money flow trail that was evident during the two months leading up to the breakout). Follow through it did, all the way up to the $8.20 level by August 21, 2009, before gently pulling back for a couple of weeks along with the broad market.

Now, suddenly and once again, a major 55-period channel breakout on major daily range and volume is now upon us -- so what's next? That's impossible to answer with precision, but given the strong monthly cyclical uptrend in force in this stock, not to mention the strong money flow trend and the fact that the new breakout occurs from a flag flying at half-mast type of consolidation, the odds favor a runup toward the $10 range for CRY. Remember, this stock is projected to have steadily increasing quarterly earnings for the next year or so, and so there is no reason why the big flows of institutional money into this stock should dry up any time soon.


If you decide to take a crack at CRY, here are a few tips to consider:

* An intraday pullback in the next session is a strong possibility, so you may wish to see if you can put on half your position after a 15- to 30-minute intraday reversal. Then you could add the other half on strength, especially if today's high is exceeded.

* Given the mixed technical state of the broad markets (not to mention the fact that September is such an historically rotten time in the stock market), you may wish to run a tighter stop and even consider scaling out partial profits on a continuation move (as in, "Git out while the gittin's good"). Running a three-bar trailing stop of the daily lows might be a good strategy, and if price hits $8.85, consider taking half profits and bringing your stop up to breakeven, as $8.85 is an area of significant resistance for CRY. If price keeps on going, move to a two-bar trailing stop of the daily lows and just sit back and wait.

Overall, this appears to be a very good, low-risk channel breakout for CRY, but be sure to wait for a minor pullback before stating to build your position, as it could make a major difference in your final trade outcome.