Encore Wire Corp. (WIRE) shares have done reasonably well since November 2008 after having bottomed out near $13; the shares are well above $23, right at the time that a very noticeable cup & handle pattern has manifested on its weekly price chart. Let's zoom in for a more detailed look (Figure 1).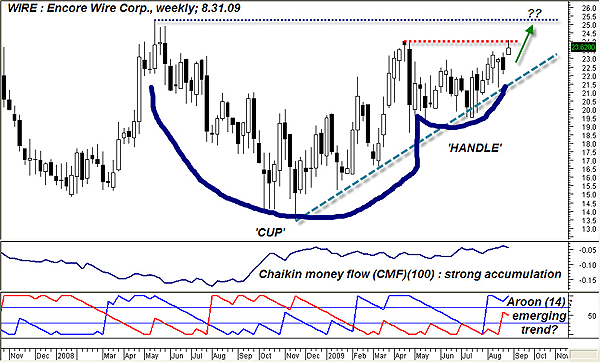 FIGURE 1: WIRE, WEEKLY. The cup & handle pattern is distinct, money flow is solid, and the trend appears to be strengthening. Will this be enough to propel this stock past the May 2008 swing high near $25.22?
Graphic provided by: MetaStock.
If you love to pore over stock, exchange traded fund (ETF), and commodity charts just for fun, then you just can't help appreciate the beauty and symmetry that certain chart patterns seem to project. Take this weekly cup & handle (C+H) pattern, for example. Okay, it may not be as smooth as your grandmother's teacup, and the handle is a bit misshapen, but when you look at the pattern as a complete unit, there's no mistaking it for anything but a C+H pattern. Even trading/business legend William O'Neil (creator/founder of Investor's Business Daily and a major fan of such chart patterns) would find this particular pattern of interest, especially given the extra technical measures also plotted on the chart.

First off, note that the weekly long-term money flow (as depicted by the Chaikin money flow (CMF)(100) at the bottom of the chart) is in a strong trend and appears to be getting stronger. Money flow, as you've probably guessed by now, is an indispensable analysis tool, one you should also consider making a regular part of your charting and system-building activities. On another front, note how the Aroon (14) trend-intensity indicator has recently swung to the bullish side of the ledger, yet another reason to watch this pattern with keen interest. Of course, there is already a strong uptrend line in place, and WIRE has already begun to accelerate higher from its most recent trendline pullback episode.

Right now, WIRE is toying with previous resistance at the prior swing high near $24. A strong weekly close above $24 pretty much ensures a continuation move all the way to the next significant resistance (also formed by a more distant swing high) near $25.30. If that particular resistance is taken out, WIRE could have fairly smooth sailing up to the next chart resistance area at $27.24.

On the fundamental side, WIRE also appears to have a consistent expectation among analysts for increasing earnings over the next 12 to 15 months, also a positive factor for those considering a long entry in this stock.


As far as playing WIRE right now, here are a couple of ideas; the first and possibly best idea is to play this setup on a daily or even an intraday (30- to 60-minute chart) basis, and here's why. The risk to reward (RR) ratio isn't all that great for a weekly trade, unless you're willing to do a covered call trade with a September 2009 expiry. And since the broad US markets are very likely to have a weekly cycle top between now and late September, having a shorter-term trading time frame seems to be a more practical (September is a notoriously bearish month in the broad US markets, particularly in the first year of a Presidential term) strategy. Therefore, why not just watch the breakout level near $24?

If you see a confirmed breakout/close above $24.10 on a 30- or 60-minute chart, consider a buy-stop entry near that price, one that you'll ride hard and fast according to your own intraday trend-following method. You might even consider holding the position overnight if it runs hard after entry, but be aware of that resistance area around $25.30. If the trade gets that far, it could be a great price zone to book partial profits, tighten stops, and/or close out the trade for a decent profit.

With the ghosts of Septembers past swirling around both Wall Street and LaSalle Street, you certainly don't want to get taken for a ride by the markets, should this September play out as expected -- a corrective phase in an ongoing bull market. In quick, out quick should be your strategy if you plan on trading in September.