All the individual stocks that make up the total of the stock market can be and has been divided into market sectors. These various sectors each go through their own bull and bear markets at differing times as they lead the economy through the various stages of the business cycle. During economic uncertainties such as a recession, the consumer staples, health care, and utilities market sectors outperform all others as well as the overall stock market. By measuring the performance of these three market sectors compared to the Standard & Poor's 500, it is possible to determine when the stock market is predicting uncertain economic times ahead.

Recently, I wrote three Traders.com Advantage articles highlighting those three market sectors that normally do well during economic uncertainties. These sectors are known as defensive market sectors. These three articles are "Traders Remain Confident In The Stock Market," "Health Care Determines Market Direction," and "Are Utilities Signaling A Higher Stock Market?" I highlighted how you can forecast the future direction of the broader stock market based on what these three market sectors are currently doing.



Just as there are three sectors that outperform the broader stock market during economic uncertainties, there are two market sectors that start to outperform the broader stock market and all other sectors during the beginning of a new bull market of the overall stock market. Here, I highlight one of these market sectors.


One of the two market sectors that lead the economy out of bad times is the technology sector. If we can determine that the technology market sector is recovering and starting to trend upward, we can determine that traders and investors are predicting that the economy is about to recover. It is from this relationship that we hear the phrase "In a healthy bull market, the technology market sector leads the broader stock market higher." As this and other market sectors start to trend higher the overall stock market also starts to move higher, as it is made up of these various sectors.


In Figure 1, the technology market sector as measured by the Technology Select Sector SPDR (XLK) started to recover from November 2008 to March 2009 when it went through its basing period by forming a double bottom. XLK broke out above its double-bottom basing pattern in early April, signaling that XLK was starting to trend higher. Shortly thereafter, XLK broke above its 34-week exponential moving average (EMA), signaling that the technology market sector was entering into a long-term upward trend. This long-term upward trend was then confirmed when the 34-week EMA started moving upward.

In addition to the technology market sector being in an established bull market trend, it is also necessary for the tech sector to show strength by outperforming the broader stock market. To make this analysis, I use relative strength comparative. Relative strength comparative analysis is performed by dividing the technology market sector by a stock market index such as the S&P 500. The result is a ratio line that climbs when the technology market sector is moving higher at a faster rate than its index and declines when the market sector is moving lower at a faster rate. When the ratio line is climbing higher, it shows sector strength and when it is falling, it shows weakness. In Figure 1, the relative strength comparative ratio line is shown below the price chart. The analysis shows that the technology market sector started showing market strength in early 2009 when it broke out above overhead resistance.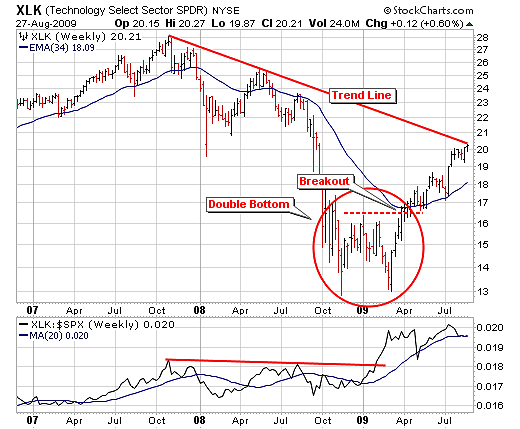 FIGURE 1: XLK, WEEKLY. This chart shows XLK basing or forming a double bottom in late 2008 to early 2009. This chart also shows XLK breaking out of the double-bottom formation and starting to trend upward. Currently, XLK is up against long-term overhead resistance.
Graphic provided by: StockCharts.com.
In conclusion, the technology market sector established itself in a long-term bull market upward trend around the May 2009 time frame and has been showing market sector strength since early 2009. Long-term trends normally last from several months to several years. From a timing standpoint, the long-term upward trend in the technology market sector is still quite young and should continue upward for several months. Unfortunately, XLK is now up against resistance from a long-term downward-sloping trendline, which could temporarily stall the upward advance. Until proven otherwise, the technology market sector remains in a bull market uptrend and continues to signal that the broader stock market is in the early stages of a new bull market uptrend.